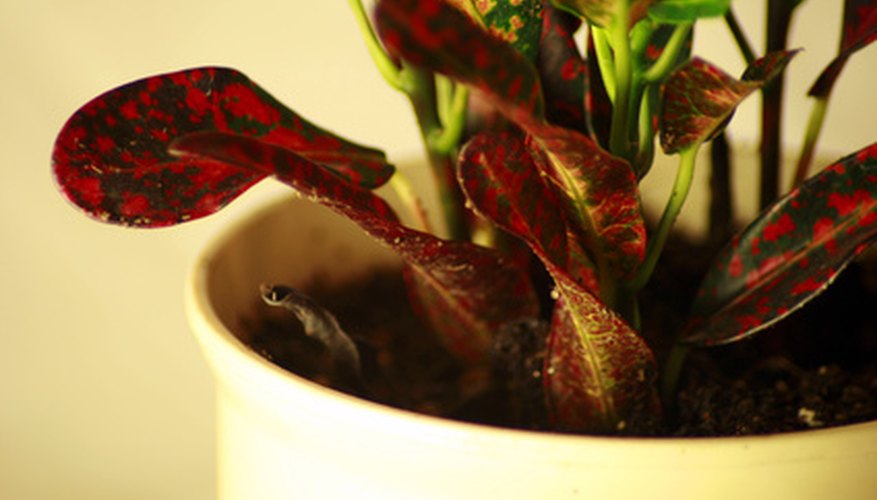 Even the best potting soil blend eventually breaks down and hurts the plants more than it helps them. The organic matter in the soil, such as peat moss and compost, breaks down and no longer retains the moisture properly. This causes the potting mix to compact around the plant's roots, eventually strangling them. Potting soil for annual plants needs to be recharged with fresh amendments after every growing season. For perennial plants, the potting soil needs to be recharged at each repotting or every two to three years.
Remove annual plants from the potting soil once they have completely died. Separate any remaining roots from the soil and discard or compost. For perennials, lift the plant out of the pot and gently shake off as much old potting soil as possible from the roots.
Spread the potting soil out in disposable roasting pans, filling each pan to the rim. Mist the soil with water so it is slightly moist. Cover the pan with aluminum foil.
Bake the soil in a preheated, 325-degree Fahrenheit oven for two hours to sterilize the soil. Remove the soil from the oven and allow it to cool to room temperature.
Mix one part peat moss and one part perlite or vermiculite to every three parts potting soil. The peat moss and perlite replenishes what has broken down in the soil and allows it to aerate yet retain moisture properly.
Mix ½ cup slow-release 10-10-10 analysis fertilizer with each 5 gallons of potting soil. This is not necessary if you use a regular fertilization schedule with soluble houseplant fertilizers.
Perform a soil pH test on the potting soil once you are finished amending it. Follow the instructions in the test kit, as these differ between brands. Mix in the amount of agricultural limestone recommended by the test to bring the soil's pH to 6.8.