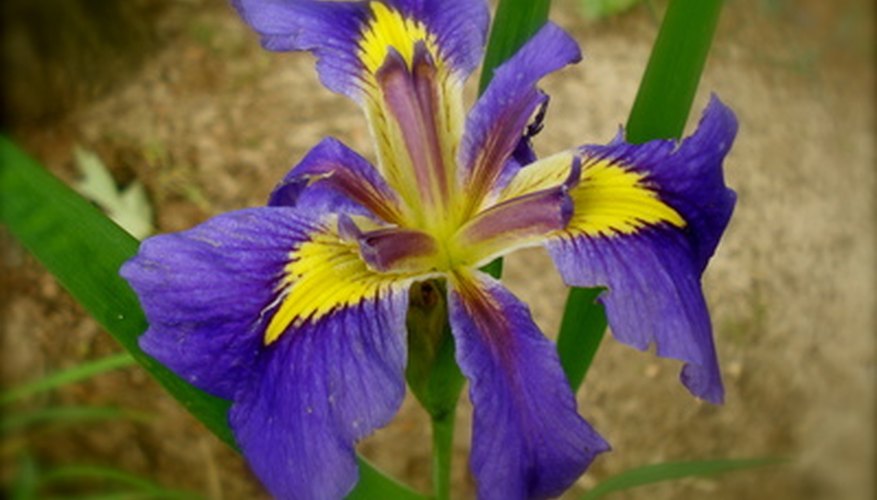 Iris flowers bloom in spring and early summer, adding bright, stately color to the perennial bed. There are two types of iris available, but both are sometimes referred to as bulbs. Many of the garden iris, such as bearded iris, actually grow from a root system called a rhizome. Bulb iris, such as dutch iris, grow from a true bulb and are similar to other spring bulbs, including daffodil and tulip. When it is time to dig iris for dividing or just to move the plants to a new bed, the method is nearly identical for both rhizome and bulb varieties.
Cut off the foliage to one-third its previous height once the iris stops blooming. Generally, rhizome varieties are dug in the late-summer and bulb varieties are dug in the fall.
Dig around the iris bulb with a trowel, digging about four inches out from the outermost leaf on the plant. Dig down below the iris bulb, approximately six to eight inches deep.
Slide the trowel under the bulb and lift it from the soil. Work slowly, and avoid cutting the bulb as you dig it out.
Inspect the iris bulb for signs of rot or damage. Dispose of any pieces that are cut or feel soft when you place pressure against them.
Twist the bulbs apart at the spot where they join if you are digging bulb irises. Cut apart rhizome varieties, leaving at least one fan of leaves on each piece.
Tips
Replant iris immediately after digging. This allows them to quickly reestablish themselves and prevents rot.

Replant the iris bulbs or rhizomes at the same depth they were at previously. Planting too deep can inhibit blooming.
Warning
Iris borer is a caterpillar than infests iris bulbs. There aren't outward signs of an infestation, so a gentle squeeze is necessary to check if the bulb has become soft and begun to rot.