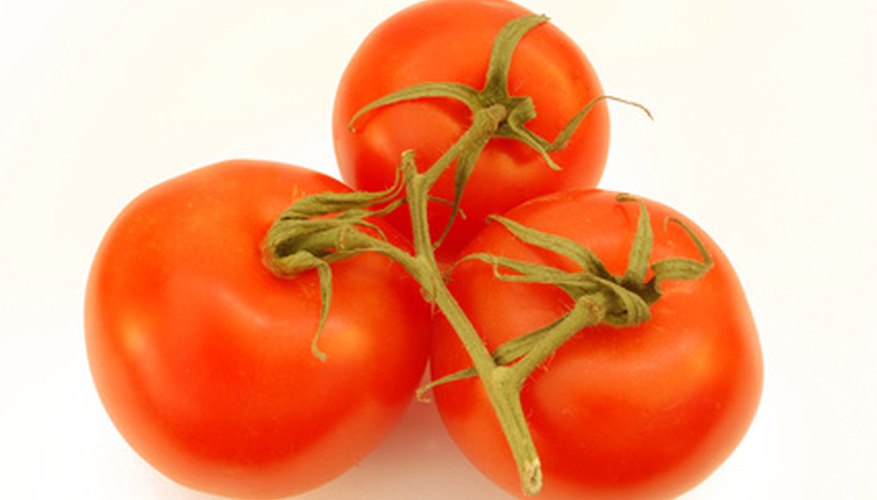 A single 3-inch tomato delivers 39 percent of your recommended daily value of vitamin C, according to Nutrition Data's analysis, as well as protein, vitamin A, calcium, iron and fiber. Grow your own nutrient-rich tomatoes at home instead of buying them from the store. Though gardeners can purchase tomato seedlings in nurseries, it's usually cheaper to start growing tomatoes by planting tomato seeds.
Choose a gardening area. Tomatoes require a minimum of six to seven hours of full sunlight a day for best foliage growth and fruit production. For optimal fruit yield, the gardening area should be away from trees, according to the University of Missouri Extension. Nearby trees will send out roots that will compete with your tomatoes for soil, water and nutrients.
Prepare the gardening area. Break up the soil to a depth of 6 to 8 inches with a spade. Stir in a couple of inches of aged compost two weeks before you plan to plant your tomatoes, according to the University of Florida IFAS Extension. At the time of planting, the University of Illinois Extension recommends applying a starter vegetable fertilizer, following the product's label guidelines.
Plant the tomato seeds. Bury each seed approximately one-half inch below the soil surface. Space the seeds apart by 12 to 36 inches, depending on the variety. The seed packet will detail species-specific spacing guidelines.
Water the planting area twice daily or as needed to keep the garden bed moist. The tomato seeds will typically germinate within 10 to 14 days.
Apply 2 inches of mulch around the tomato seedlings when they're 4 inches or taller. The University of Florida IFAS Extension recommends using organic matter, such as dried lawn clippings or shredded leaves.
Fertilize the tomato plants once again after their first set of fruits are approximately 1 to 2 inches in diameter. The University of Illinois Extension suggests applying a 10-10-10 all-purpose vegetable fertilizer at a rate of 3 pounds for every 100 feet.