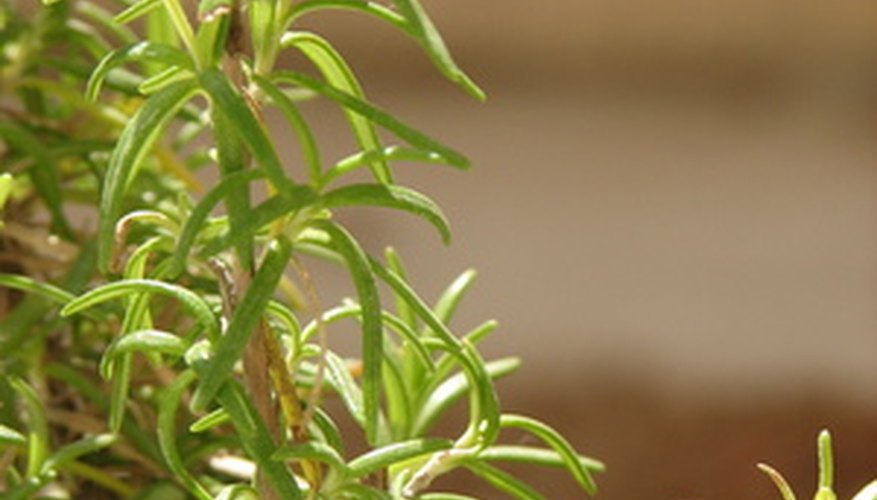 A perennial evergreen shrub, the rosemary tree grows approximately 3 feet in height. Rosemary topiaries are widely sold during the Christmas holiday season. The shrub resembles a tiny Christmas tree and offers a strong evergreen scent. Many people adorn the trees with decorations and lights. Sprigs are commonly clipped for use in culinary dishes. Popularly grown as a house plant during the winter months and as a patio accent during the summer, the rosemary tree offers ease of care and year-round appeal.
Transplant the rosemary tree to a larger pot after purchase. Plant in a pot that is at least 4 inches larger then the tree's root ball. Plant in a well-draining potting soil. Place the tree in the new pot so that the soil level is the same as it was in its old pot.
Place the newly transplanted rosemary tree in a saucer filled with pebbles. Cover the pebbles in water to produce humidity around the plant in the dry winter months.
Choose a location that offers full sunlight. Place the rosemary tree away from indoor heaters or heating vents that can easily dry it out.
Water the rosemary tree to maintain moist soil conditions.
Maintain an indoor temperature of 75 to 80 degrees F in the summer months. Keep the plant in temperatures of less than 75 degrees F during the winter for the tree to continue to thrive.
Fertilize the rosemary tree using a water soluble plant fertilizer. Apply according to the directions on the label.