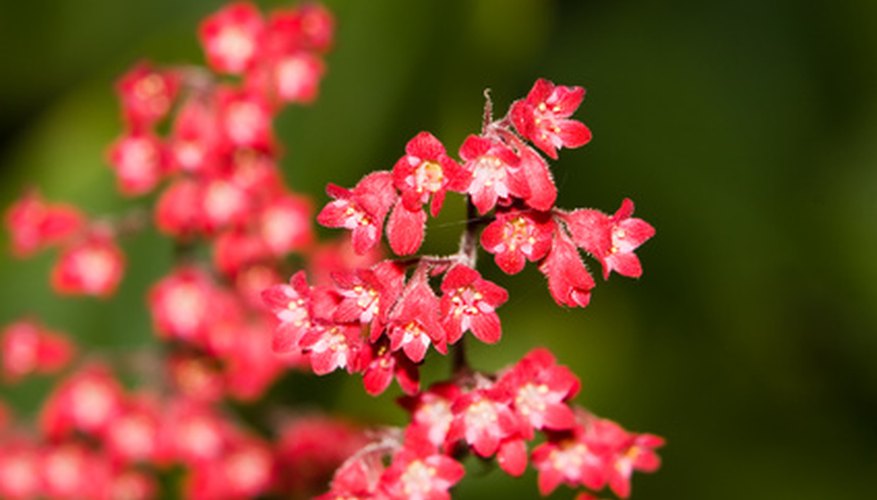 Heuchera, commonly known as coral bells, has experienced a strong resurgence of interest since the development of 'Palace Purple' and 'Dale's Selection' in the 1990s. Although blooms are small, hovering on tall flexible stems, the excitement of this reliable, old-fashioned cottage garden favorite lies in the new varieties and colors of long-lasting foliage. A palette of golds, tawny browns and reds have stimulated a range of jewel-like and edible names--planting 'Butterscotch' next to 'Caramel' and 'Chocolate Mint' sounds more like cooking than gardening.
Plant heuchera in the spring. Locate a planting area that receives both sun and shade during the day. In the wild, heuchera is one of many perennials that does best in the dappled shade of a tree canopy. Strong, steady sunlight, prolonged heat and frequently-dry soil will produce withered leaves and poor growth.
Dig planting holes twice as big as the plant root ball, and work some rotted leaf mold or other organic compost into the planting soil. Originating on the forest floor, heuchera are heavy feeders and do best in soil rich in organic matter. Avoid pine needles, peat moss or other organic materials that will increase soil acidity. If your soil tends to be quite acid, mix a little lime in the planting soil. Place the plant so that soil comes just to the crown of the plant above the roots. Tamp soil down gently and water.
Provide regular watering until heuchera is established (you will see signs of new leaf formation). Check the soil during hot periods to make certain it has not dried out. Note that, by the time you see any substantial amount of withering or wilting in the leaves during a hot spell, roots may already be in danger.
Side-dress established plants with additional organic material every spring. Add a little lime at the same time, to maintain neutral soil balance. Plants are long-lived and need regular additions of organic nutrients to sustain growth. In areas of severe winter weather, mulch heucheras with 2 to 4 inches of shredded bark or other mulch before hard frost. Remove mulch after the last frost date in the spring.
Things You Will Need
Trowel

Rotted leaf mold or other compost

Lime, if needed
Tip
Consider planting other heuchera in the same location as one that is doing well. Enhance the visual impact of the handsome foliage by clustering heuchera, whether of the same or contrasting varieties. You can be assured of an attractive display from spring through to early fall.