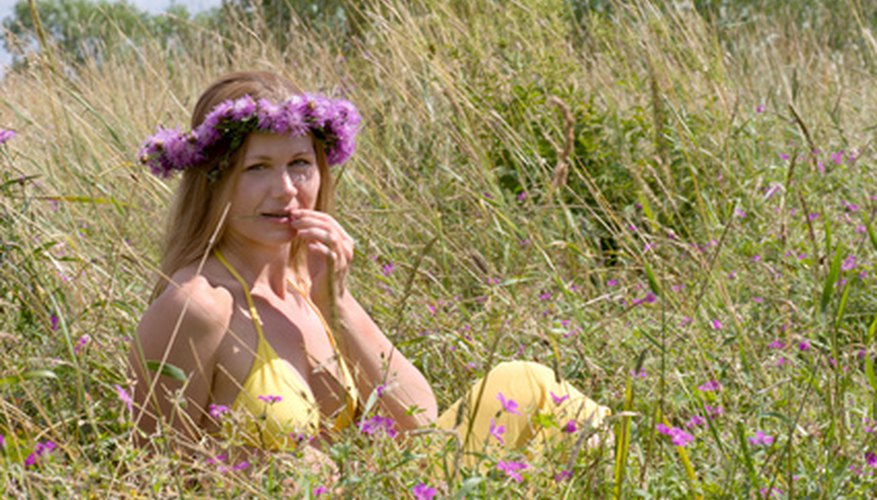 Make a wreath using fresh or silk flowers with colors that complement your dress and turn heads as you make your entrance at any occasion. Beautiful, festive, brightly colored flowers enhance the appearance of even an ordinary dress. Though considered a simple accessory, a floral wreath or crown costs a bundle when purchased from a florist. Personalize your wreath by using your favorite flowers, and dress it up with a trail of decorative lace in the back for added appeal. Wear your homemade wreath to a wedding, party, dance or even an afternoon lunch.
Measure the width of your head. To do this, wind florists wire around it. Allow 1-inch overlap and cut excess off using wire cutters.
Bend a 1/4-inch or 1/2-inch piece of the wire on one end to form a small loop. Twist the sharp edge to prevent it from coming loose. Hold a 1/2-inch of wire length at the other end and bend it to form a hook. This simple hook-and-eye connects together to ensure the wreath is securely on the head. An alternative to this is to twist the ends together so your wire forms a circle. Cover the sharp ends with tape.
Wrap green floral tape around the wire to conceal it.
Hold two lengths of greenery such as ivy together for a thicker and fuller look and wrap it around the wire. Snip excess off and wrap a length of floral tape to secure it in place. Also hold it in place by taping it at 2-inch intervals.
Attach the flowers to your wreath. Determine the appropriate stem length and trim excess off. Secure the flowers in place with floral tape, or add a small amount of glue to a side. You can also insert them into the ivy, but this is not very safe as the flowers may come loose and slip off.
Add as many flowers as you like. Start from the front and move on to the middle and then the back. Also insert stems of greenery such as baby's breath between the flowers to break the monotony. Add many flowers for a thicker and lush wreath.
Attach lengths of decorative ribbon to the back of the wreath. Make sure the colors coordinate with those of the flowers and the dress. Keep them as long as you want, although varying lengths enhance interest. Knot an end of each ribbon to the back of the wreath, allowing it to fall naturally. Place your fresh or silk floral wreath over your head.