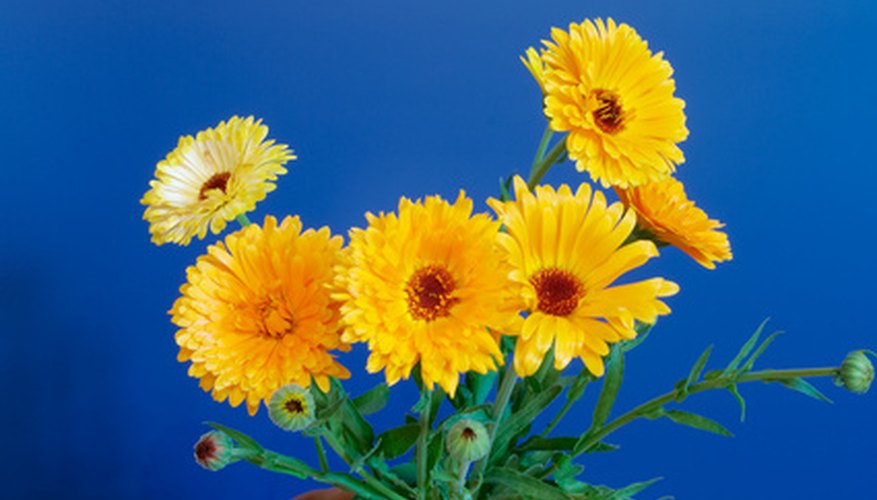 Calendula (Calendula officinalis) belongs in the family Asteraceae and acts as a flowering annual or perennial. Native to the Mediterranean, calendula is edible and used in folk medicines for the healing of various skin problems. It is suitable for growing in containers, thus its nickname "pot marigold." Gardeners living in warm regions of the south will find most success planting calendula during the cooler months of fall; however, plants will grow year-round if given protection from hot conditions. Calendula is hardy and a colorful addition to the garden with its brightly colored orange and yellow flowers.
Sowing in the Ground
Select a location in your southern garden that receives partial sun during the day and drains well. This is especially true during the warmer months of the year as many areas of the south experience extreme heat. Calendula will grow and bloom best if it receives some sunlight during the day.
Remove any weeds, grasses or other debris from the planting site. If sowing seeds, the unwanted vegetation can choke them out as they begin to germinate. The unwanted vegetation also robs nutrients and moisture from the plants. Keep the area weed-free while the calendula is growing there.
Amend the planting site with compost, working it into the soil to a depth of approximately four inches. Calendula tolerates many soil conditions, but benefits from the addition of organic material.
Sow the calendula seeds one-quarter-inch deep into the soil, covering with a light application of soil. Be sure not to plant the seeds too deep, as it will cut down on the germination rate.
Water the seeds after planting. Continue watering to keep the planting site moist, but not soggy; the seeds will begin to germinate in one to two weeks. Keep the area moist with regular watering as many areas of the south experience hot, dry weather.
Planting in Containers
Select a container that is approximately three gallons in size and has drain holes in it. The container will be large enough for the calendula plants to reach maturity and not be crowded.
Fill the container with a well-draining potting mix, and water the soil.
Use your finger to make several one-quarter-inch indentations into the soil, and place a seed into each. Cover lightly with soil.
Water the container, thoroughly saturating the seeds. Keep the container's soil moist until the seeds germinate in approximately one to two weeks. Continue watering the container to keep the soil moist after the seeds have sprouted. Calendula will grow best if kept in moist, but not soggy, conditions.
Situate the container in an area that receives partial sun throughout the day. Calendula will perform best receiving some sun, but conditions in some areas of the south may be too hot for plants to live in full sun throughout the day.