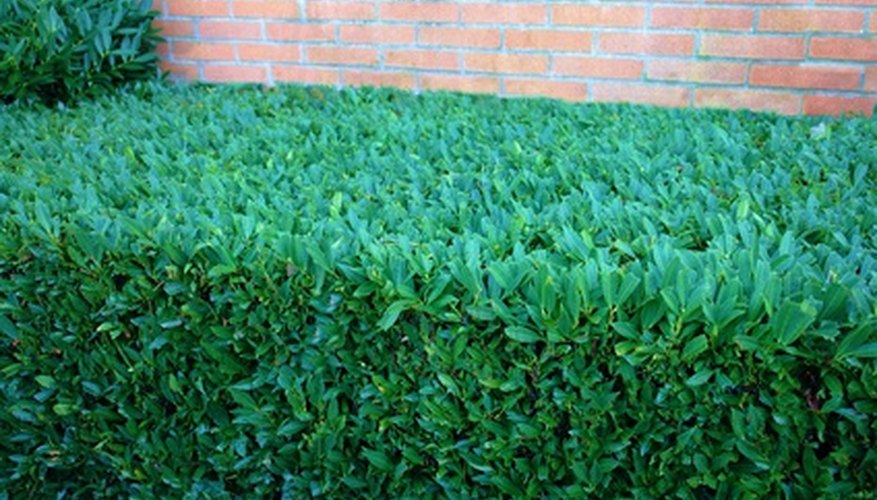 Every homeowner may come across overgrown bushes and hedges. Trimming back the overgrowth is essential to maintaining the health of the hedges. Overgrown bushes can become home to rodents and insect nests; vines can also overrun overgrown bushes, strangling them in the process. Bringing overgrown hedges back under control takes at least two seasons for best effect.
Run the weed trimmer around the edge of the hedges. This will open up the bottom edge of the hedges and allow you clear access to lower limbs as well as enable faster cleanup after trimming. Use the rake to comb through the branches in a downward stroke, removing any dead material; this will also untangle any vines that are growing through the overgrown bushes or hedges.
Apply slow-release fertilizer around the base of the hedges. Water the soil around the hedges to get the fertilizer into the soil. This will help the hedges recover faster from the pruning.
Cut the overgrowth using the pruners. Do a rough cut of the entire hedge first, pruning down to the underbrush. On very overgrown bushes and hedges, the pruning will look as if you are removing half of the growth; this is needed to bring the remaining base back. Avoid cutting new undergrowth; this will appear as lighter green foliage underneath the overgrowth. Using a rough cutting allows light to get through to the remaining foliage.
Remove the pruned material and dispose of it. Pull out any vines entangled within the hedges; any vines that were grown originally to complement the area have likely gone wild with the overgrowth.
Cut the smaller stems with the hedge trimmers. Shape the hedge or bush so the larger diameter is at the bottom. Cut off the bottom layer of the bush so there is a gap between the bush or hedge and the ground. This creates a clean look, keeps rodents and pests out, and prevents soil-borne pathogens from gaining access to most of the plant. Cut above stem splits to allow the hedge a way to fill out.
Apply fertilizer around the base of the hedges. Water the soil around the hedges to get the fertilizer into the soil. Apply this round of fertilizer in the spring after the first pruning. Keep the soil bed moist to help the bush regenerate.
Use the hedge trimmers the second year to shape the bushes. Keep the foliage cut close to the stems and trunks to ensure the hedge fills out from the bottom up.
Things You Will Need
Pruners

Hedge trimmers

Weed trimmer

Slow-release fertilizer