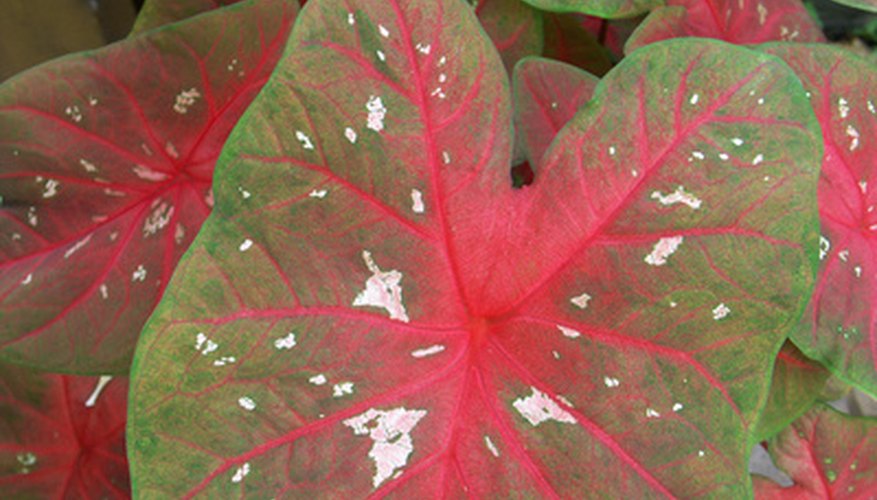 Caladiums bring colorful vitality to outdoor areas of shade or partial shade. Caladium foliage is available in a variety of colors and variegations that include shades of green, white, red and pink. Plant caladiums where they receive moderate light. Direct sun causes the foliage colors to fade, and too little light causes tall, weak petioles (leaf stems).
Caladiums make ideal plants for container gardens. Specific varieties, such as Fire Chief, Red Flash and Sea Gull, thrive indoors as potted houseplants.
Prepare the planting bed or container. Caladiums need well drained organic soil rich in humus. Add peat moss or compost to improve the soil, if necessary. Locate the planting area in partial sun or filtered sunlight for the most vivid foliage colors. High winds damage caladium leaves, so choose a sheltered location.
Select firm tubers with several active eye buds. The number of eye buds depends on the size of the tuber. The eye buds develop into foliage, so more eyes mean bushier plants. Avoid soft tubers; they have been damaged by cold and will not grow.
Plant the caladium tubers in warm soil with the eyes facing up. The eyes should be 2 inches below the surface of the soil. Plant large tubers deeper and small tubers shallower so the eyes are all at the proper depth. The soil temperature should be at least 60 degrees Fahrenheit, or the tubers may rot.
Firm the soil around the caladium tubers to eliminate air pockets.
Water the tubers thoroughly after planting. Keep the soil moist, but not soggy.
Mulch the caladium bed with organic mulch to retain moisture and help control weeds. New shoots should appear in seven to 10 days.