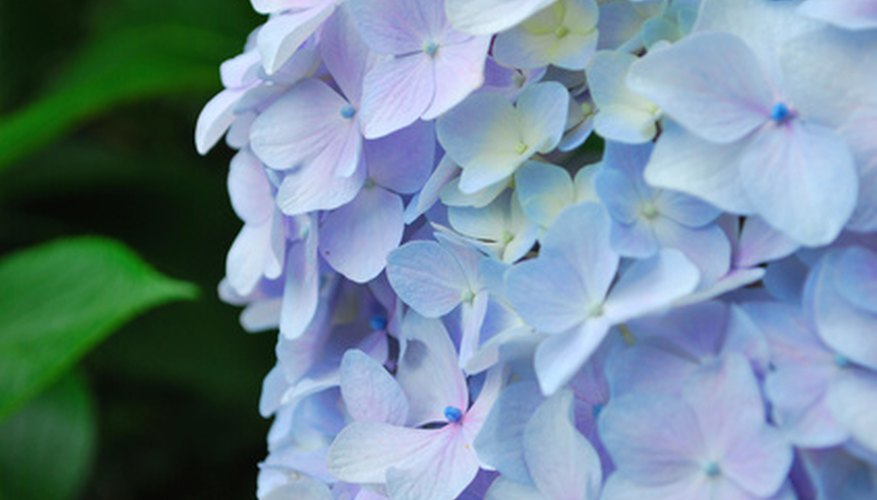 Hydrangeas are quite sensitive to soil acidity, and they showcase this sensitivity through their color. Hydrangeas that are planted in alkaline soil are pinkish shades; however, when growing in acidic soil, the blooms will turn a deep purplish-blue. Gardeners can use this sensitivity to their advantage and manipulate the garden bed, so that the flowers turn the color of their choice. Adding acid to hydrangeas' soil requires just a bit of aluminum sulfate solution.
Wash and dry a gallon-sized jug. Add about 1/4 cup of aluminum sulfate to the jug and fill the container the rest of the way with water. Shake to thoroughly combine the solution. Bags of powdered aluminum sulfate are available in gardening centers, as well as the garden section of your local home improvement store.
Pour the solution in a thin stream around the base of the hydrangea plant, stopping when the soil is just saturated. Be very careful not to add too much of the solution to the soil (about 1/4 to 1/2 cup per plant should be plenty). If you've poured too much aluminum sulfate into the garden bed, you can attempt to flush it out by soaking the area with water. Though hydrangeas are very tolerant of aluminum sulfate, adding too much of the solution can kill the plant.
Repeat the aluminum sulfate treatments about once a month for best results, particularly if the hydrangeas are growing in containers.
Keep an eye on the blooms. If they appear discolored, droopy or sickly, cease the treatments immediately. Aluminum sulfate can be toxic to plants, even hydrangeas, in large enough amounts.
Switch to coffee grounds if the aluminum sulfate solution is too much for the plant. Simply scatter the used grounds around the base of the plant. The acid from the grounds will slowly leak into the soil. This method is not quite as effective as aluminum sulfate, but it will change the flowers' color slightly.