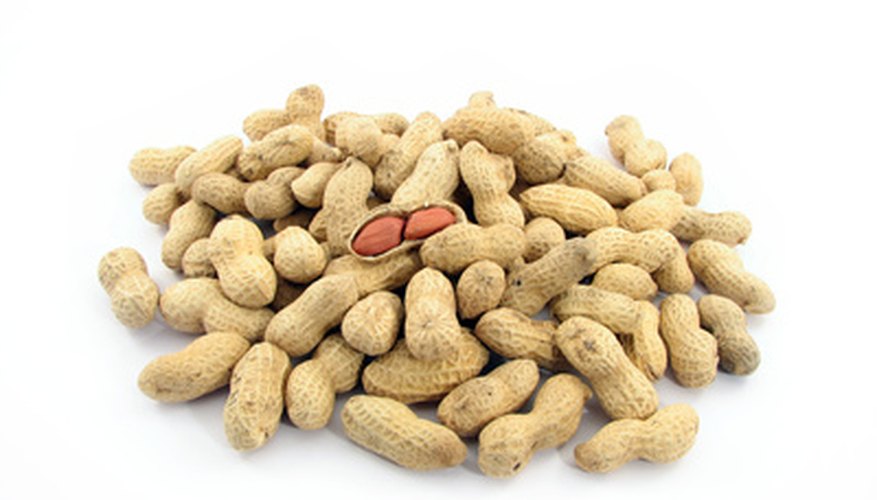 Herbicides for peanuts are effective when used correctly. In an attempt to grow peanuts while controlling weeds, grasses and invasive plants, the University of Florida suggests treating for weeds both before and after planting. Pay attention when weeds emerge and treat them while they're less than three inches in height. As always, follow instructions on each product's label.
Preplant Herbicides
Preplant herbicides for peanuts are those that are used on the soil before planting peanuts. These herbicides include pendimethalin for use on annual grasses and pigweeds; S-metolachlor for control of some annual grass varieties, pigweed and yellow nutsedge; dimethanamid for use on certain annual grasses and small-seeded broadleaf weeds; and imazethapyr to combat purple and yellow nutsedge, wild poinsettia, pigweed and wild radish, according to UF.
Preemergence Herbicides
Preemergence herbicides are applied after the nuts are planted but before weeds emerge. Some preemergence treatments include: dimethanamid for use on certain annual grasses and small-seeded broadleaf weeds; diclosulam for use on broadleaf weeds like starbur and ragweed; and pendimethalin for control of annual grasses, Florida pusley and pigweed.
Cracking Stage
Cracking stage herbicides for peanuts are used just as the peanut plant begins to emerge, cracking the soil. Bentazon is used to combat bristly starbur, cocklebur, ragweed, prickly sida and smallflower morningglory. Acifluorfen is best for tropic croton, pigweed, morningglories and other seedling broadleaf weeds, according to UF.
Postemergence Herbicides
Postemergence herbicides for peanuts are applied after weeds have emerged from the soil. Some postemergence herbicides for peanuts include: lactofen for use on morningglories, hemp sesbania and other broadleaf weeds; sethoxydim for use on grass weeds like crabgrass and bermuda grass; and clethodim to combat annual and perennial grasses.