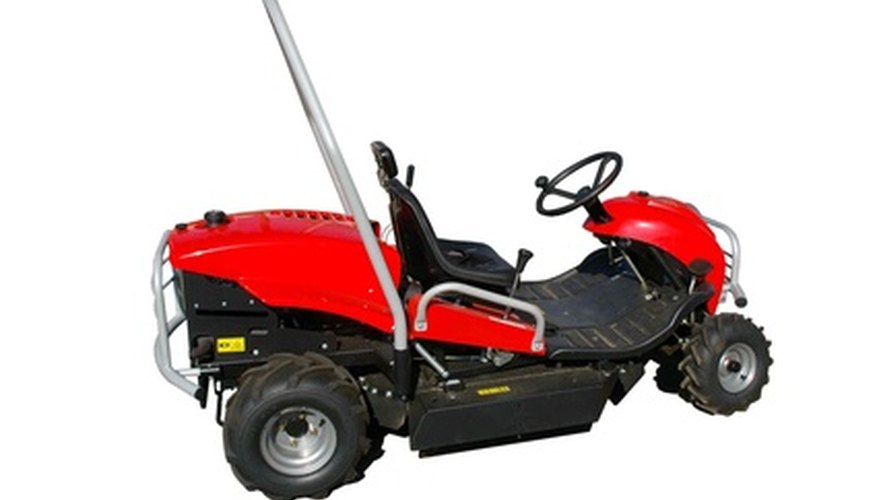 TONDEUSE AUTOPORTEE ref 1400 image by Marie-Thérèse GUIHAL from Fotolia.com
The safety switch on a Craftsman mower is designed to shut the engine down if no one is seated on the tractor seat. This is a safety feature in case someone were to fall off the mower while it was moving or to prevent the power from being put into gear without anyone to control it. Disabling the safety switch obviously removes this safety feature from the mower, so consider carefully before you proceed.
Lift the seat of your riding mower. On most models the seat simply lifts up and is hinged on one end. On some models, there may be a small latch that you will have to release with your finger before you can lift up the seat.
Locate the two wires which attach to the underside of the seat.
Clip the two wires at the point where they connect to the box on the underside of the seat.
Strip 1 inch of insulation of of each wire. You may use a sharp knife or a wire stripper to remove the insulation.
Twist the two bare ends of copper wire tightly together and wrapped with electrical tape until no copper is exposed.
Lay the two wires down under the seat and lower the seat. The safety switch is now disabled, and the mower will run without anyone seated on it.
Things You Will Need
Wire cutters

Sharp knife or wire stripper

Electrical tape
Tip
Some Craftsman mowers have three wires, all black. You must simply experiment, putting two wires together in different combinations until you get the right one.
Warning
Disabling the safety switch on a Craftsman riding mower could result in injury or death. No recommendation is made that the switch be disabled.