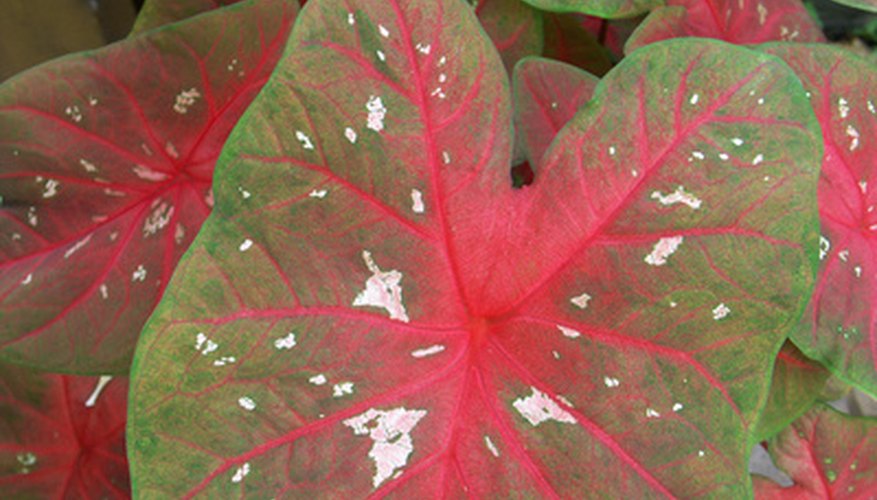 Massachusetts is a cold-weather state that gets heavy snow in winter in the western part of the state and is somewhat more temperate in the eastern, coastal part of the state. The biggest city, Boston, is on the water and along with the rest of the eastern part of the state, is in Zone 6a on the U.S. Department of Agriculture Plant Hardiness Map. The western part of the state is in Zone 5.
Though tropical plants do not traditionally grow in this climate, there are some tropical and tropical-looking plants that will survive in this area.
Caladium
Usually found in the South and hardy to Zone 11, the Caladium x hortulanum hybrid can survive Massachusetts winters. Native to the tropical parts of the U.S., caladium is grown more for its foliage than flowers. Green leaves are arrow-shaped and have blotches of bronze, light green, pink, red, silver or white. Plants grow to about 3 feet.
The tuber of this hybrid may be left in the ground in Massachusetts, but to insure that is survives winter, cover with with peat moss or bark for extra insulation. In the alternative, the tuber may be dug up and stored. Caladium thrive in shade and should be watered frequently to keep the roots moist.
Gladiola
This tall flower that grows nearly year round in the warmest climates, can provide lots of splashy color to a Massachusetts garden in summer. The hybrid Gladiolus x hortulanus is a hardy cultivar that is available in a rainbow of colors, including blues, oranges, pinks, purples and yellows. It grows to 4 feet and flower spikes can have up to 15 blooms.
These bulbs are perennials, but should be topped with a layer of mulch for winter protection or dug up after the first frost and stored inside. Gladiolas should be planted in full sun and require regular water during growing season.
Hibiscus
These showy plants are ubiquitous throughout the South, where they can bloom all year round. In Massachusetts, the Hibiscus syriacus, also known as the "Rose of Sharon" can add showy color and vibrant foliage to a home landscape. This variety may have single or double flowers in blues, pinks, purples, reds or white. The flowers are smaller than many other hibiscus varieties, but bloom throughout the summer and the plant is hardy to -10 degrees F.
The Rose of Sharon is a deciduous shrub and, in Massachusetts, should be cut back after the first frost. To insure survival over the winter, mulch around the roots. This plant thrives in full sun and needs regular water.
Resources