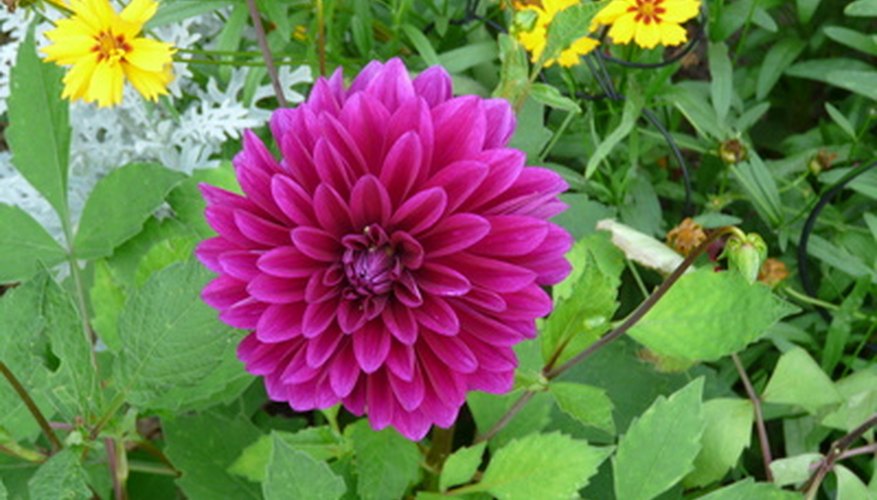 Dahlias are native to the volcanic regions of central Mexico. They belong to the Asteraceae or Compositae, or daisy, sunflower or aster family; their flower heads form daisy-like petals. Dahlias are available in so many colors and forms that they are easy to incorporate into almost any landscape design.
Characteristics
Dahlias are a group of fast-growing annual tuberous flowers whose varieties grow as short as one foot tall and as big as six feet. Dahlias grow in well-drained soils and in full sun to partial shade exposure. They are propagated by seed or by tubers--divisions or cuttings. Dahlias make dramatic landscape borders or stand-alone plantings. They make excellent cut flowers as well.
Types
According to Dr. Leonard Perry, a professor at the University of Vermont, there are 10 general classes of dahlias. These 10 classes are single flowered, anemone flowered, collarette, water-lily flowered, decorative, ball, pompom, cactus flowered, semi-cactus flowered and the miscellaneous class. This class has subgroups that include orchid, chrysanthemum and star dahlias.
Growing Dahlias
Dahlias are very hungry flowers that thrive best in rich, well-tilled soil. According to the University of Minnesota Extension, incorporate compost manure, nitrogen-rich fertilizers, potassium and lime as necessary to give the soil a balanced pH.
After planting dahlia seeds or tubers in mid to late spring, the flowers usually emerge in July and bloom until the temperatures drop in the fall season. Mulch around the dahlias by midsummer to help retain the soils moisture and to prevent weeds from growing near the plant. Remove any weeds growing around the dahlias, as they tend to drain the soil of the nutrients and water that the dahlias need.
Diseases
Some common diseases that damage dahlia flowers include viruses, bacteria, mold and tuber rots. Some common dahlia viruses, according to Washington State University, are dahlia mosaic, which is spread by aphids, tomato spotted wilt virus and tobacco streak virus, which are both spread by thrips, and tobacco ring spot virus, which is spread by nematodes and may be seed borne. Verticillium wilt is a type of bacteria that damages the stems and causes the dahlia plant to wilt and die, and powdery mildew causes mold to form on the plants.
Pests
Insects that damage dahlias include aphids, mites and leaf hoppers. Aphids drain the plant of its juices, mites cause its leaves to turn pale and leaf hoppers damage the flowering plant through its leaves, according to the University of Florida.