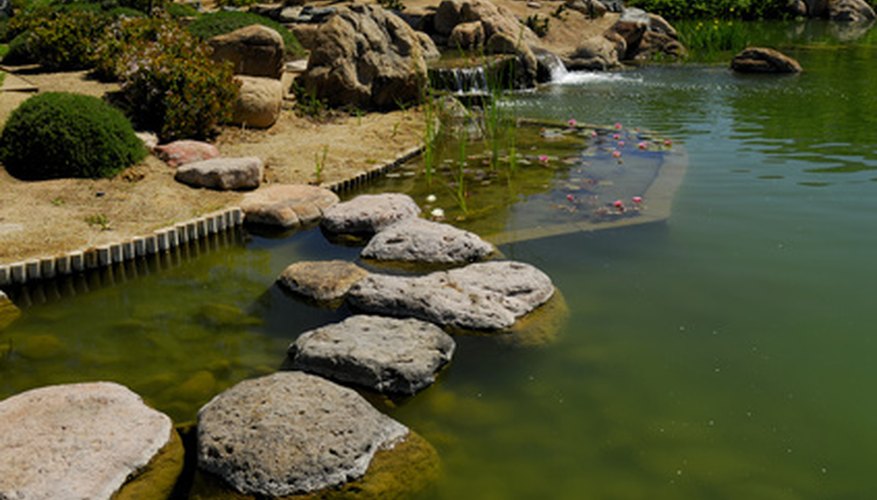 Japanese tea garden waterfall image by Richard Paul from Fotolia.com
Landscaping with rock opens a multitude of possibilities when creating or reshaping your garden. The type of rock, whether it is natural or cut into a shape, affects the look of your garden immensely. Using cut rock can create an organized, planned sense to your garden, whereas natural rocks can lend to a soothing, nature-inspired harmony. Either way there are precautions to take when laying down rock in your landscaping, and a few things you can do to make the process go more smoothly.
Sketch your ideas for your landscape and plan where major rocks or key rocks will be placed, even if there are several smaller ones that you will simply place as you go. Developing your concept saves you from having to move them later, which considering the weight of some rocks, should be avoided if possible. Let your creativity flourish, but keep in mind the size of the area you have to work with.
Select the rocks to suit your site. Baldassare Mineo writes in "Rock Garden Design and Construction," that if your garden is within an urban setting, select boulders and rocks that are in scale with nearby elements such as buildings, fences, walls, driveways and sidewalks. And consider what types of rock are readily available in your area.
Prepare the soil. If you are placing rocks in a section of your garden or yard where you do not want anything to grow up in between them, then laying down weed barrier is a must. Depending on the terrain, you may need to use a shovel to dig out or level an area for the rocks you will place. Placing a boulder on an incline or creating a level path are some examples of placements that will need special preparation.
Place your rocks where you planned. If the rocks are not too heavy, you can lift and place them yourself. Wearing thick work gloves, preferably made of leather, helps when lifting, shifting and placing rocks of all types. Remember to bend your knees when lifting. If you are placing a larger rock such as granite slabs, or large boulders, then you will need to use heavy machinery.
Stand back from your placed rocks and study their placement. Are they taking the form of your vision? It might look different from what you imagined or sketched, but what matters is that it feels right. If something feels off, take the time to reorganize it.
Things You Will Need
Rocks

Leather gloves

Shovel

Weed barrier

Level