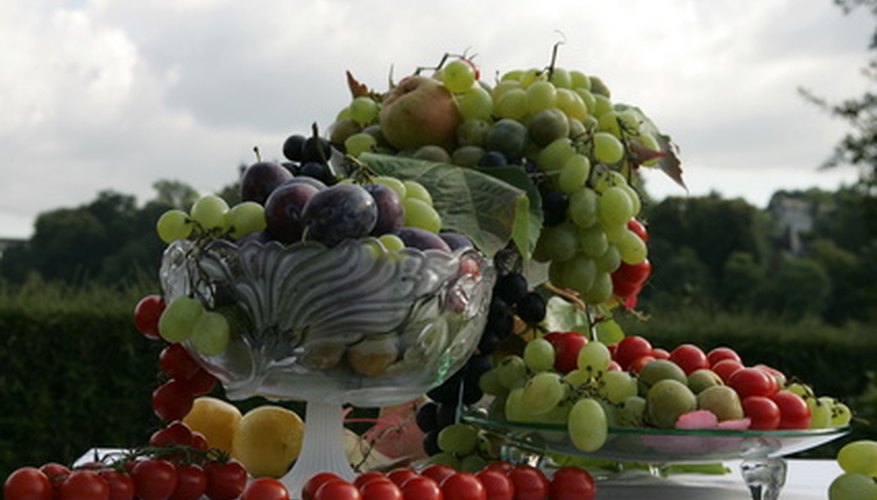 Grape tomatoes are small, sweet varieties that are usually eaten fresh in salads. Grape tomato plants produce round fruits that are usually no more than 1 ½ inches in diameter and ripen in around 70 days on average. These tomatoes tend to produce an abundance of fruits, and have the same care requirements as other tomato varieties. You can grow grape tomatoes in containers, in a greenhouse, or in your garden patch outdoors during the warm summer months.
Water your grape tomato plants deeply and thoroughly two or three times every week when rainfall is less than 1 inch per week. If you're growing the grape tomatoes in containers, water them daily or every other day to keep the potting soil evenly moistened.
Feed your grape tomato plants 1 lb. of ammonium nitrate per 100 feet of row, or 1 tbsp. per plant, after the first fruits are about golf-ball-sized.
Hoe shallowly around the grape tomato plants once every week to remove weeds. Then, spread black plastic or a 3-inch-thick layer of organic mulch around the grape tomato plants in early summer.
Feed your grape tomato plants again about three weeks after the first fertilizer application, providing the same dosage rate. Fertilize once more in another three weeks.
Anchor tomato cages over the plants to train the vines and support the tomato fruits. Select a cage that's the same height as the grape tomato variety's mature height and secure the cage to the ground using steel posts or stakes.