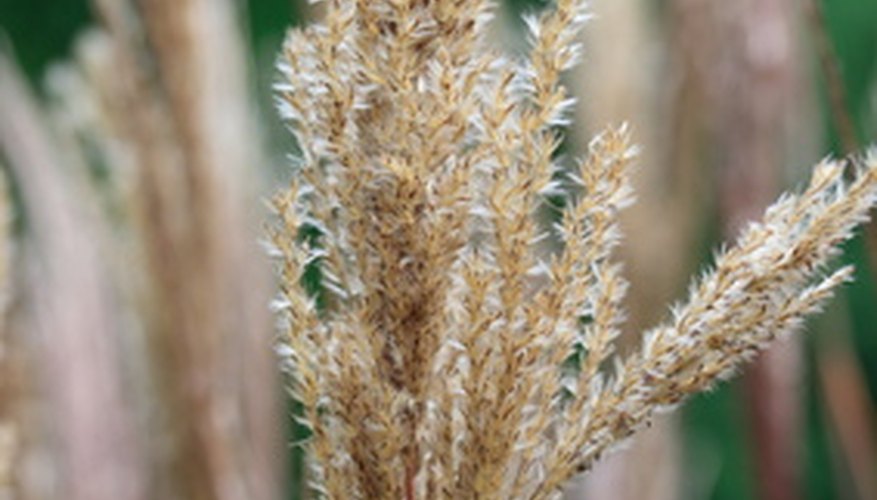 For water conservation, erosion control or to create a wildlife habitat, you can plant native grasses. Planting native grasses is becoming more popular, as people become accustomed to the graceful beauty of native grasses as well as their low environmental impact. Native grass seed is easy to find on the Internet, but you must do some research to find what native grasses are adapted to your particular soil and climate. For best results, plant native grass seed in late fall before the ground freezes or early winter in the Southern U.S. so it can begin to grow in the spring as early as possible.
Prepare the area where you would like to plant native grass seed. The area should be cleared of all vegetation down to bare soil. This is best accomplished by using a contact weed killer containing glyphosate. Glyphosate kills all vegetation it contacts and has a low residual, which means it cannot continue to kill plants after a period of about 2 weeks. Spray the weed killer on all vegetation unless you have some native grasses or other plants you would like to keep, and then shield those plants from the spray.
Rake all dead vegetation from the planting area after it dies. A second application of herbicide may be needed if new plants are growing in the area or if some of the plants are not dead. The area should be completely clear of vegetation when you finish with only bare dirt remaining.
Mix grass seed and dry soil in a bucket at the rate of one part grass seed to five parts soil. You mix the soil with the seed so when you broadcast the seed it is mixed with soil and the seed is slightly covered with soil.
Broadcast, or spread, the seed and soil mixture from the bucket by hand. Walk up and down the area where the native grasses are to grow, overlapping the areas where the seed is broadcast to get complete coverage. It is okay if the seed is visible on top of the soil and you step on it while working. The most important thing is that the seed has soil contact.
Sprinkle water over the area where the seed is planted to allow the seed to become attached to the soil. Do not water any more unless you have an unusually dry winter. Native grass seed sprouts late in the spring and may not be visible until May or June, so be patient. Try to remove any broad leaf or nongrassy type weeds that grow in the planting area in early spring.
Things You Will Need
Weed killer containing glyphosate

Rake

Bucket