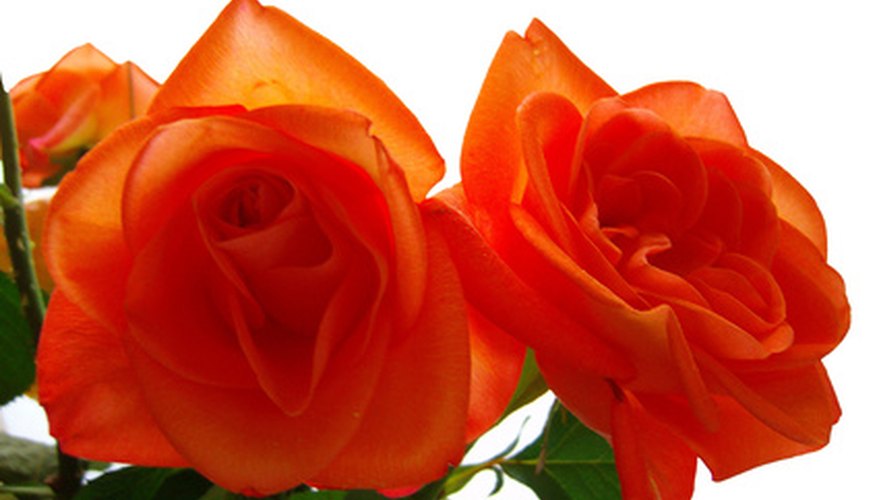 Rose trees are the result of grafting different parts of rose bushes together to build a living rose bush that resembles a tree. Rose trees originated in Europe during the 1800s as a garden attraction for the rich. They require pruning and care because roses never naturally grow in this fashion, but are stunning in the garden, where they garner attention and second looks.
Rootstock
When creating a rose tree, the gardener will check the roots of a rose bush for parasites, signs of disease and quality of root growth, then cut the entire bush from a healthy root. Healthy rooting ensures that the finished graft will have a good start. The gardener cuts the exposed top of the root system to match the central cane of another rose bush that he then grafts to it to become the trunk of the rose tree.
Central Cane
The central cane is the trunk of a rose bush minus the roots and leaves. Because it is the weakest part of the rose tree, the trunk should be strong to support the rose tree. The trunk should not be riddled with holes from insects or weakened by cracks. With large roses, cut the trunk a length of 32 to 36 inches. On trees made from miniature roses, the trunk should be 24 inches.
Branches
The graft at the top of the trunk consists of the leaves and flowers of the rose tree. Prune this part of the rose tree to retain its shape and deadhead it regularly. Removing the dead roses promotes further flowering. The branches at the top of the trunk will display multiple colors or varieties of roses, because the rootstock, trunk and branches at the top are all from different rose bushes.