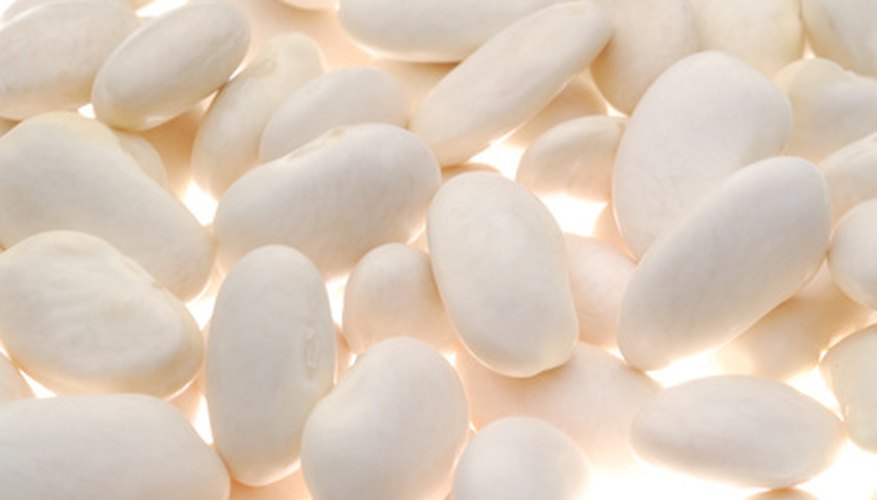 Navy beans, sometimes called white beans or haricot beans, were the original beans used to make Boston baked beans. Like most other beans, navy beans are a good source of soluble fiber. When combined with grains, they are low in fat and provide protein levels similar to meat and animal proteins. Growing navy beans isn't much different than growing any other type of bean. By locating your bean patch properly and caring for your beans, you can easily grow navy beans in your home garden.
Prepare the soil by digging down 12 to 18 inches and turning the soil.
Add about 2 inches of compost and work the soil with the hoe and rake until the largest clump is about the size of a pea.
Smooth out the soil with the rake.
Create rows 2 to 4 feet apart by mounding soil 3 to 6 inches high with a trough to channel water away from the main bean stems.
Plant your beans when the soil temperature reaches 50 degrees F. Planting in colder soil will reduce germination rates and may result in rot. Plant your beans 1 inch deep in heavy, compacted soil or 1 1/2 inches deep in lighter soils with higher sand content. Plant your navy beans 2 to 4 inches apart.
Water your bean patch thoroughly. Keep it moist until your beans have germinated.
Once your beans have germinated and are several inches tall, add 1 to 2 inches of mulch to help reduce weeds and retain soil moisture.
Give your beans 1 inch of water per week or whenever the top 1/4 inch of soil feels dry.
Harvest your beans late in the season once the beans and pods have dried on the vine.