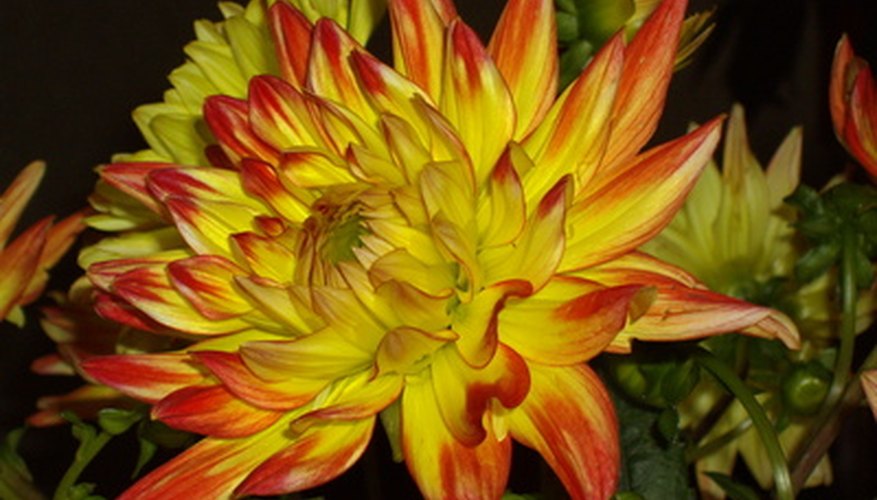 Dahlias bloom from July until the first appearance of frost, if provided with a sunny spot with well-drained and rich soil. The Ohio State University Extension Service recommends a soil pH of 6.5 to give dahlias the best opportunity to show off their splendor. Pinch back the plant to help create larger flowers and remove all but the central leader bud for the best show.
Planting and Digging
Plant the tuberous roots 9 to 12 inches apart for the bedding variety, with 2 feet of separation for small-flowering types and 3 feet of separation for large-flowered types, Ohio State University's Extension Service suggests. Place the bulbs 6 to 8 inches deep. Anchor any supports at the same time you plant the tubers.
Wait until after the last frost date for your area to plant. Fertilize the dahlia bed with a low nitrogen fertilizer up to a week before planting. Repeat monthly and stop fertilizing in August, according to the Ohio State University Extension Service. Mulch in June, but take care not to damage the shallow roots of the dahlia plant.
Dig up the bulbs using a gardening fork once the foliage dies back or following the initial frost occurrence. Gently clean the dirt from the tuber surfaces.
Overwintering
Cure the bulbs for one to three days away from wind and light, in a location where the temperature is 60 to 70 degrees F, according to the University of Minnesota Extension Service. This allows any damaged areas to heal over before the roots are stored. In some areas and under damp conditions, the process may take longer.
Store dahlias in a paper bag, cardboard box or a plastic bag with holes punched through the bag. According to the University of Illinois Extension Service, pack the tubers in sphagnum peat or vermiculite for best results. Dry sand is also acceptable as a storage medium. Place the tubers in the storage medium with the stem-side out and put the container in a location where the temperature range will remain between 40 to 50 degrees F.
Check the roots periodically; every three to four weeks is sufficient. During the inspection, remove any spots of disease with a sharp knife. The Colorado State University Extension Master Gardener Program advises gardeners to soak the tubers overnight in a bucket of water if they become significantly shriveled. Allow them to dry thoroughly before returning the dahlias to storage.
An alternate method for treating a small amount of shriveling is to add a few drops of moisture to the material in the tuber storage bag.