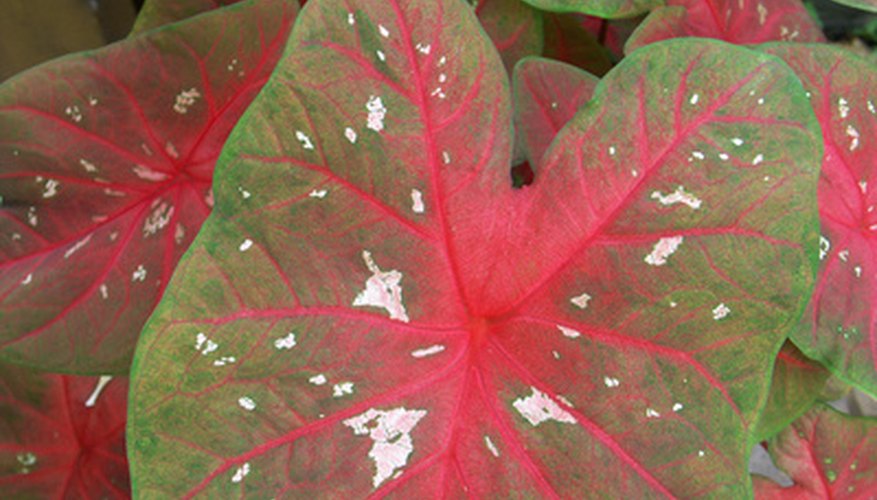 Caladium, also known as elephant ear, is a tuberous perennial valued for its large, ornamental foliage and ease of cultivation. The plant's leaves reach 7 to 14 inches in length, though size, shape and color varies dramatically depending on variety. Caladium flowers during summer, though the white blossoms are tiny and inconspicuous. Native to tropical South America, caladium cannot survive temperatures below 30 degrees F. With proper winter care, however, outdoor caladiums can reappear each year, producing new, attractive foliage.
Choose a planting site that receives partial shade throughout the day and consists of well-drained soil. Spread a 2- to 3-inch layer of organic compost over the chosen site and use a garden spade to amend the soil and increase fertility prior to planting. Space caladium plants at least 1 to 2 feet apart.
Apply a 2- to 3-inch layer of mulch over the soil surrounding caladium to provide insulation, stunt weeds and improve moisture conservation. Provide at least 3 inches of space between the mulch and the plant's crown to prevent rotting and fungal diseases.
Water your caladium plant once every five to seven days during active growth to keep the soil evenly moist, but not soggy. Apply water directly to the soil so moisture cannot accumulate on the foliage and cause disease. Provide at least 2 inches of water at each application to ensure the plant's roots receive enough moisture.
Feed plants once every four to six weeks during active growth using a 5-10-10 NPK fertilizer. Water both before and after applying the fertilizer to prevent root injury and dissolve the fertilizer into the soil. Check the manufacturer's instructions for correct dosage.
Dig up caladium tubers during fall, just before the foliage loses all of its color. Spread out the tubers and allow them to dry for a week. Cut away all old foliage and pack in dry peat moss at a temperature higher than 50 degrees F. Replant the tubers the following spring after all danger of frost is over.