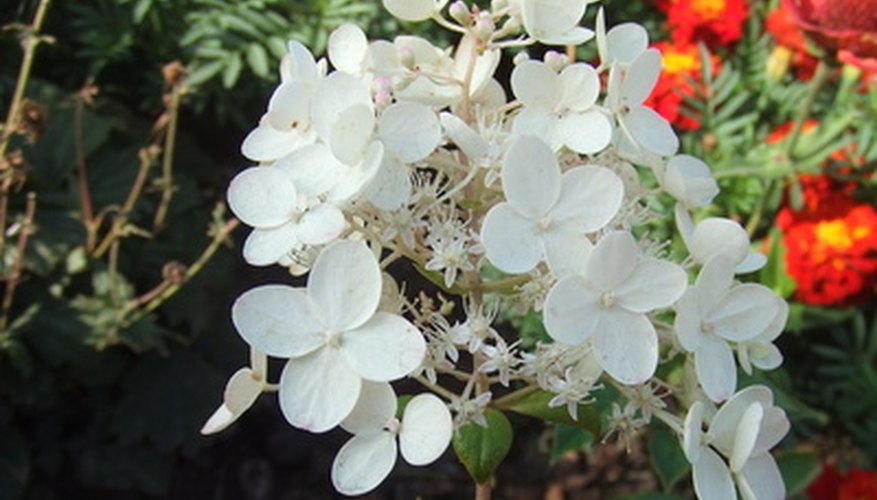 Hydrangea blossoms have graced summer gardens since the 1730s. While there are some native hydrangea varieties that are coming into favor, the most popular hydrangeas come from England. Five species of hydrangea, including four shrubs and one vine, grow in Indiana, according to the Monroe County Master Gardeners. Despite the Hoosier State's extremely cold winters, these bloom-covered shrubs can grow happily with the right care.
Choose a site with full sun or partial shade. Hydrangeas thrive in cool, moist soil, so look for an area that receives some afternoon shade.
Test the pH of your soil, either with an at-home kit or by taking a sample to your local Cooperative Extension office. The pH will affect the color of your hydrangea flowers. Much of Indiana has alkaline soil (above 7.0), which will produce pink flowers, while acidic soil (below 7.0) will lead to blue flowers.
Choose from the hundreds of hydrangea varieties and cultivars. The cold-hardiest hydrangea is the panicle, which produces creamy-white flowers that turn pink as they mature. The most popular smooth hydrangea cultivar is "Annabelle," which has showy blooms and is treated as an herbaceous perennial. The oakleaf Hydrangea has dramatic foliage, showy flowers and vivid red and purple fall leaf color. The bigleaf hydrangea produces huge flower clusters of pink or blue, but does not flower well in Indiana because its buds arrive early and are often killed by frost. But a new cultivar called "Endless Summer" seems to flower more reliably.
Water your hydrangea once a week during Indiana's dry summers. Too much watering can lead to root rot, particularly if you have heavy, clay soil. Leaves turning brown around the edges indicate your plant is over-watered. Every other week, add a water-soluble fertilizer like Miracle-Gro when you water.
Protect your hydrangea in the winter. Indiana is USDA Hardiness Zones 5a to 6b, meaning temperatures can get as low as -20 degrees Fahrenheit. Surround your dormant hydrangea with a circle of stakes surrounded by chicken wire or burlap, or lined with cardboard. Insulate the plant by putting dried leaves or pine straw into the enclosure. Cover the enclosure with garden cloth, and leave the plant covered until the last possible frost date.
Things You Will Need
Soil pH test kit

Water-soluble fertilizer

Wooden stakes

Chicken wire, burlap or cardboard.

Dried leaves or pine straw

Garden cloth