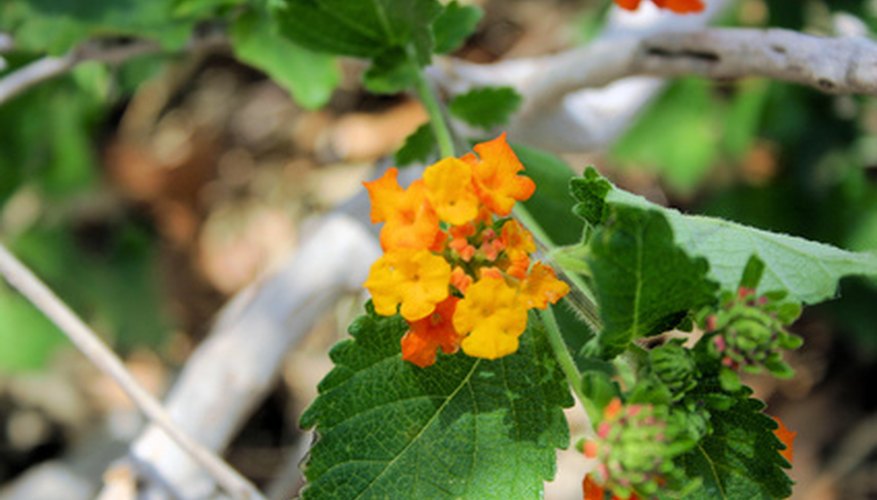 Lantana (Lantana camara), a fast-growing shrub, thrives in the southern half of the U.S. It dies to the ground where temperatures get below 28 degrees F in the winter, but regrows from the roots in the spring. A tough plant, it withstands drought and reflected heat. There are more than 100 varieties, including low-growing varieties and others that become large shrubs up to 5 feet tall and wide. All Lantana produce bright flowers of orange, red, yellow or pink, depending on the variety, at least once during the growing season. The flowers are attractive to butterflies and hummingbirds. When preparing the soil for planting Lantana, add clear any debris and work in some compost.
Locate an area of the garden that receives full sun and has well-drained average garden soil. Most Lantanas need least 36 inches of space around the plant. However, smaller, mounding or dwarf varieties of Lantana need a much smaller space.
Clear the area of weeds and other plants that may compete with the Lantana. Remove any weeds or plants that may shade the Lantana, as excessive shade will diminish the ability of the Lantana to bloom.
Break up the soil to a depth of 6 inches with a shovel to provide the Lantana with loose soil so the roots can get established.
Add a 1- to 2-inch layer of compost over the surface of the planting area. Use a hoe to gently work the compost into the top 1 to 2 inches of soil. Rake the area smooth and you are ready to plant your Lantana.