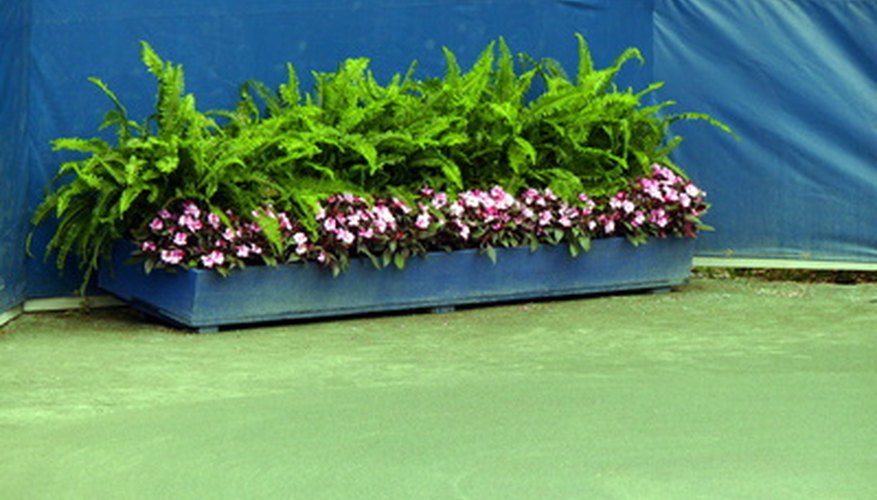 A wooden flower box is a form of container gardening that enables homeowners and gardeners to display plants, flowers or vegetables anywhere around their house, thus adding color to the particular spot. Planter boxes have many advantages—they are portable, can be raised to prevent people with back problems from bending too low, lack weeds and contain soil purely meant for planting and growing. Depending on personal taste, plant herbs or fruit in your wooden planters and place or mount them outside your kitchen, or plant fragrant flowers just outside your bedroom.
Determine where in your yard, garden or patio you want to place the wooden flower boxes, so you purchase flowers according to the sunlight that particular spot gets. Select flowers that prefer full sunlight like geraniums if displaying the flower box in a sunny location, or shade loving plants such as ferns.
Drill drainage holes in the base of your flower box if it lacks them. Line the base with broken pieces of pottery, crockery or small stones to assist in drainage and prevent root rot.
Mix one part compost with two parts lightweight potting soil in a large bucket. Pour into the flower box until two-thirds full.
Remove your nursery bought plants from their containers and plant them in your flower box. Depending on personal taste, add trailing vines around the outer edges of the box, tall flowers in the back and the medium or shorter ones towards the front. If planting same size flowers, create a zig zag pattern instead of rows of flowers to enhance visual interest.
Make holes for the flowers in the soil using a small stick. Space the holes 2- to 3-inches apart
Lower the root ball of a flowering plant into a hole to plant it. Sprinkle soil over the root ball to cover it completely, and tamp it down to remove any air bubbles. Repeat this procedure until you add all your plants into the planting holes. Water the flowers until the soil is evenly moist.
Pour an inch of potting soil into the flower box carefully, working your way around the flowers so you do not disturb them. Tamp the soil down gently with your fingers. Keep the top of your potting soil two to three inches below the rim of the flower box.