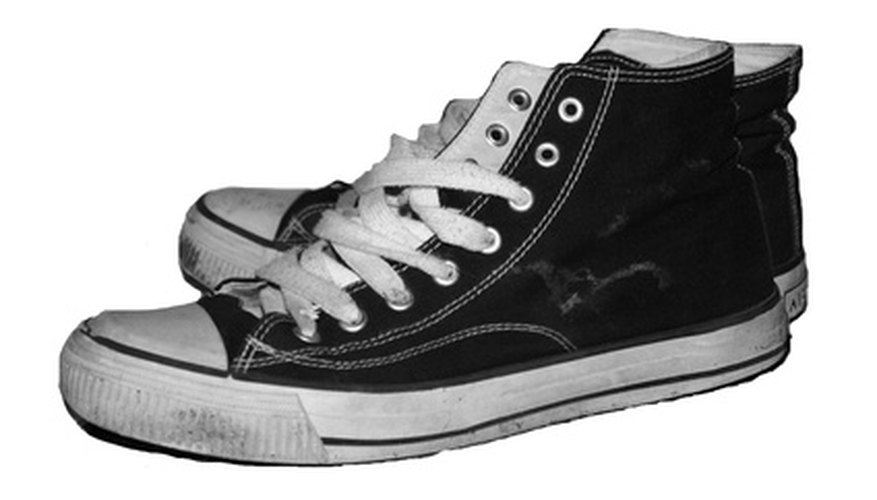 Frugal gardeners often haunt thrift stores and yard sales to find creative containers for flowers and other garden plants. Most of them pass right by a very different planting container that could transform their gardening area from conservative and plain to quirky and fun. Consider planting flowers in old shoes or boots the next time you're arranging plants. Whether it's an old work boot with petunia blooms spilling down the sides or a discarded Chuck Taylor high top sprouting violets, you'll have a living flower arrangement that will be different from any others in your neighborhood.
Lace the shoes evenly and tie them in an attractive bow. If the shoes are missing laces, purchase a new set and lace them into the shoes.
Push a plastic bag into the shoe, filling the toe and foot area and pulling the neck of the bag up into the ankle part of the shoe. Depending on the shoe style, you may have to tear away part of the bag so that it doesn't hang out of the top of the shoe.
Staple around the opening in the top of the shoe to hold the plastic bag in place, so that it won't slip down when filled.
Poke holes in the soles of the shoes with an awl, screwdriver or other sharp object. Poke down through the plastic bags to create drainage holes all the way through to the ground.
Fill the shoes with a good quality potting soil. Make sure that the soil completely fills the toe and foot area before you begin to fill the ankle area. Leave about 1 inch at the top of the shoes with no soil.
Plant your flower seedlings at the same depth they were growing in their peat pots. Water the seedlings with liquid fertilizer. Place the planted shoes in a sunny area that gets at least six hours of sunlight per day.
Water your planter shoes whenever the soil is dry to the touch. Turn the planter each time that you water it, so that different sides of the flowers get sunlight on different days.