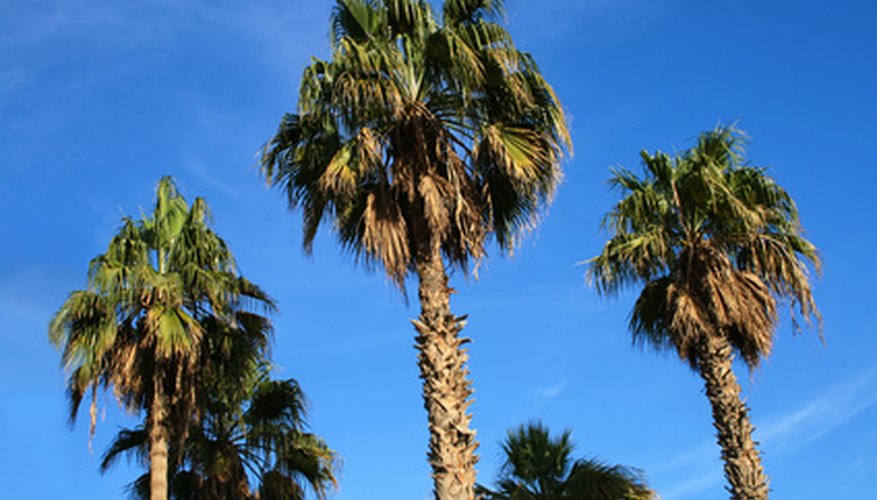 The Queen Anne palm (Syagrus romanzoffiana) is also referred to as the cocos palm. The Queen Anne palm can reach heights of 50 feet. The trunk of this palm is gray and the leaves are a luscious green. These trees can be used to landscape yards and are commonly seen lining streets.
Fertilize your Queen Anne palm with a fertilizer that contains manganese. You will only need to do this twice each year, once in early spring and again in early fall. Make sure you follow fertilizer directions so that it works efficiently.
Make sure your Queen Anne palm is getting plenty of sun. This is important because the Queen Anne is a tropical plant. If your Queen Anne palm is still young, and you see it isn't getting enough sun, you will need to transplant it to a place where it will get full sun.
Water your Queen Anne palm generously three times per week during the spring and hot summer months. During the fall and winter, twice per week is enough.
Keep an eye out for pests. The palm leaf skeletonizer and scale are commonly found on the Queen Anne palm. Fortunately, these pests are easy to get rid of. Just squirt them off the palm leaves with a hose.
Prune the fronds on your Queen Anne palm only a little bit at a time. Too much pruning will cause the tree to grow slowly.
Things You Will Need
Manganese fertilizer

Water

Garden hose
Warning
Ganoderma butt rot is a disease that your Queen Anne palm can contract. There is no cure. Make sure you keep your tree trunk healthy and free of wounds.