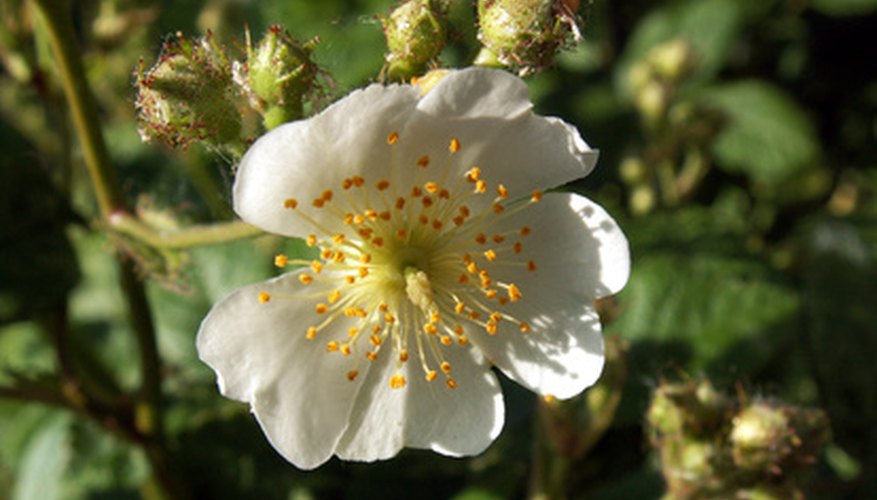 Sally Holmes is a valuable rose for the large garden, or for spots that need a large climbing cover-up. A very vigorous variety, this rose is known for being disease-resistant. It also has a long summer bloom season. Its appearance is reminiscent of antique varieties; it is very delicate looking, but the cut flowers are sturdy and long-lasting.
History
The Sally Holmes was introduced in 1976. This rose is a cross between Ballerina, a hybrid Musk, and Ivory Fashion, a floribunda. The breeding was done in England, by Robert Holmes. The Sally Holmes rose was given the British RHS Award of Garden Merit 1993.
Plant Habit
The Sally Holmes rose is a large shrub that is easily trained as a climber. It is frequently marketed as a climbing rose. It is considered to be a Modern hybrid and a hybrid Musk, with hybrid vigor and a Musk fragrance. It blooms throughout the summer. The leaves are shiny and medium green.
Bloom Description
The flower of the Sally Holmes rose is a five-petaled, single bloom. Its floribunda parentage means that it flowers in large clusters, almost rhododendron-like. Various descriptions list the buds as white to pale apricot, opening to yellow or apricot blushed white flowers that mature to creamy white. The centers are golden yellow. The flowers average 3 to 4 inches across.
Height and Spread
Sally Holmes is described by most rose websites as averaging 6 to 8 feet tall and 3 to 6 feet wide, but it is known to reach much greater size than that description. It is frequently used as a wall covering or to climb up through the branches of trees. Most resources warn against planting this rose in a small garden or in a spot where it doesn't have room to spread.
Hardiness Zones
Garden Action UK lists Sally Holmes as hardy throughout the UK, and hardy to zone 5a (-20 degrees F) in the United States. This rose is also known, according to Old Garden Roses and Beyond, for being more shade tolerant than most other roses.