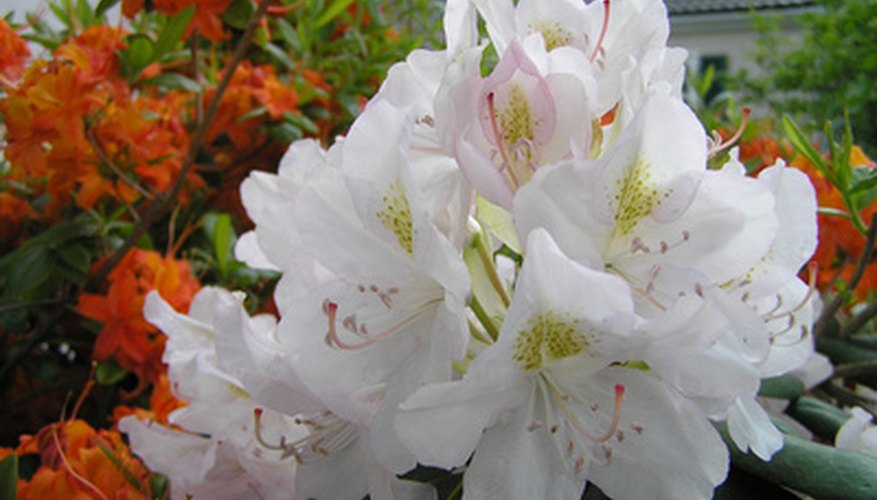 Pruning your rhododendron in the Pacific Northwest will help it become bushier and healthier. The best season for rhododendron pruning is spring. By pruning your rhododendron then, the parts of the bush you remove will not use growth resources, which will go into producing more flowers on the remaining portions of the bush. Because they are native to the Pacific Northwest, rhododendrons will grow quickly and will likely need annual pruning. The process is not difficult.
Disinfect your pruning shears and clippers with alcohol. By rubbing alcohol on your tools, you reduce the risk of transferring disease while pruning.
Look at the bush from all angles to establish the best approach to shaping your bush.
Begin pruning by clipping branches back to the previous year's leaf rosettes. Clip the branches about 1/4 inch above last year's rosette.
Prune every branch in the same way. Rhododendrons are unusual in that uncut branches will begin growing sooner than pruned branches. By not pruning some branches, your rhododendron bush may become leggy and off-balance visually.
If you are pruning an older rhododendron, prune back to old wood. Your rhododendron may take a year or two to recover from these severe prunings, but in some cases it may be the best way to deal with an older rhododendron that has not been properly cared for.
Cut the plant stem down to a few inches above ground if you want to start with what amounts to a completely fresh bush. By pruning back this severely in the spring, new growth will start, and after several years, you will be able to train and prune your rhododendron to create a neater, smaller bush. One warning: If your rhododendron is a hybrid, this could kill the bush. If you suspect your rhododendron is a hybrid, remove about 1/3 of the old wood every year for three years.