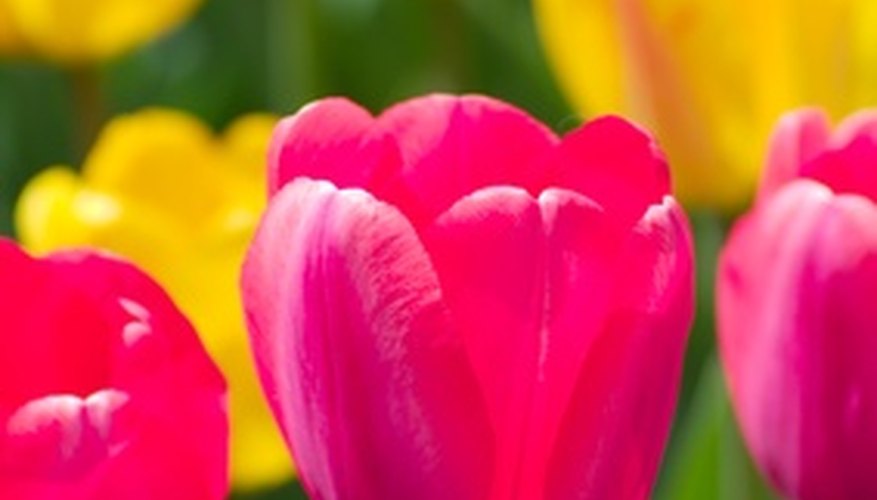 Summer-blooming bulbs, like dahlia and gladiolus, are planted in the spring. Spring-blooming bulbs, like tulips and daffodils, are planted in the fall. If planting only a few summer- or spring-blooming bulbs, use a hand tool like a spade or bulb planter. If you are planting a large garden area with bulbs, a garden or bulb auger can make the planting process fast and easy. A garden auger is a drill bit with a screw-like, wide-spaced thread designed to dig holes in soil.
Plant the bulbs in a well-drained location. A bulb auger can easily drill through grass and soil but may have difficulty going through hard, compacted soil. In cases of compacted soil, moisten the soil one to two days before using the auger.
Attach the auger to the drill and drill the hole. Read the bulb planting instructions for the planting depth, which may be 2 1/2 times the diameter of the bulb. Bright-colored paint can be used to mark the depth on the auger.
Drop the bulb into the hole with pointed tip up. Use your feet to cover the hole and damp the soil.
Water spring plant bulbs every 7 to 10 days if there is no rain and until the flowers have bloomed and the leaves have turned yellow. Water fall-planted bulbs every 7 to 10 days if there is no rain and until the first frost.
Tips
Use the appropriate power equipment. The screw portion of the auger should be about 3 inches in diameter. The power drill can operate on an electric power cord, a battery with at least 18 volts of power, or gas, and should be able to accommodate a drill bit 3/8 inch or larger in diameter.

A garden auger sized for planting bulbs can also be used to drill under a sidewalk, which may be needed to pass a power line to light both sides of the walkway.
Warning
Wear goggles to protect your eyes from flying dust and debris.