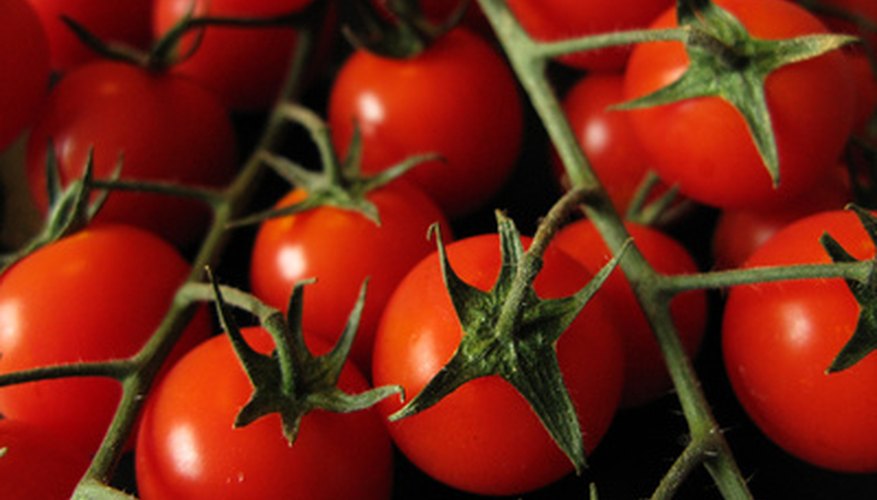 Cherry tomato image by Christian Stoltze from Fotolia.com
Dwarf tomato plants are smaller versions of cherry tomato plants. While both kinds produce miniature fruit perfect for popping whole into your mouth, the dwarf plants are much smaller. They have short life cycles and they come to harvest very quickly. Because the vines are compact and non-vining, and their root structure is very condensed, they grow well in small pots or hanging baskets. Red Robin and Tiny Tim are two popular dwarf varieties, but each has its own special characteristics.
Red Robin
Red Robin is a super dwarf cherry tomato that can be grown in a pot or hanging container outdoors during the summer or indoors year round, according to Reimer Seeds. Because it will set fruit under fairly low light conditions, it can be grown under fluorescent lights. Red Robin will grow 8 to 12 inches tall and can handle pots as small as 8 inches. It doesn't mind a bit of crowding, so you can companion plant Red Robin in a pot with nasturtiums, marigolds or basil.
Tiny Tim
Tiny Tim is a very dwarf cherry tomato that grows easily in patio containers, pot and windowsill gardens, according to Reimer Seeds. Tiny Tim will reach 18 inches tall if grown in the ground and 12 inches tall if grow in in a container. It can thrive in pots as small as 6 inches. Tiny Tim can be planted early in the season; it can handle cool spring weather.
Determinate
Both Red Robin and Tiny Tim are determinate tomato plants. This means that they reach a fixed size and all their fruit ripens within a short period (about two weeks). After the harvest, the plants will slowly stop growing and set no new fruit.
Pruning
Because Red Robin and Tiny Tim are determinate tomatoes, neither should be pruned or have their suckers removed. They will not need caging, but an exceptionally heavy harvest may require staking.
Harvest
Red Robin will harvest in 55 days, yielding 1 1/4-inch, extra sweet red fruit. Tiny Tim has a 45-day harvest, with great quantities of ¾-inch, bright red fruit. Both plants' tomatoes can be used in salads, as a garnish, in pasta, with dips or on top of bruschetta. Can them, dry them or make into salsa and freeze.