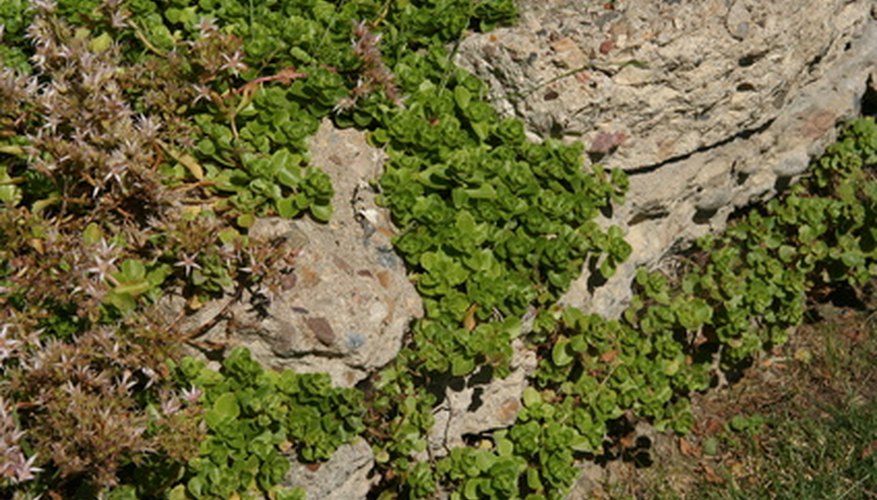 Wisconsin gardeners are always ready to accept a challenge. The state's growing season varies from 140 to 165 days from USDA zone 3 gardens of the north to southern and Lake Michigan shoreline areas in zone 5. Although sedum originates in the American West and Southwest, several varieties have acclimated to Wisconsin's winters all the way north to Lake Superior.
Buy locally grown plants to guarantee hardiness. Sedum is not native to Wisconsin but many varieties have adapted and grow easily throughout the state.
Choose a place in your landscape or garden appropriate for a guest from a semi-arid or alpine climate. Live-forever wants rocky soil, and garden stonecrop will attach itself to a rock wall. Find a sunny exposure with some light shade mid-day to keep your succulents well-hydrated. Locate your sedum on the southwest side of a building, tree or hedgerow to break the force of Wisconsin's wintry blasts.
Add compost and sand to loam and cultivate to at least a foot deep to improve soil drainage. Plant stonecrop in a hole half-again as wide and deep as the root ball. Use the spread of the adult plant as your guide as to how far apart to plant them; stringy stonecrop may grow only to 6 inches wide, but varieties like European or showy stonecrop will need at least 2 feet to spread.
Mulch plants with 2 inches of compost or wood chips each spring to help retain moisture and shelter sedum's shallow roots. Some, like stringy stonecrop and hens and chicks, grow by putting out runners that can be detached and replanted elsewhere.
Fertilize plants monthly with garden fertilizer but stop fertilizing in August so the plants start to slow their growth as the weather cools. Cut tall sedum back to a few inches tall in October so that it is not knocked about and damaged by early winter storms. Hardy sedums need no winter covering in Wisconsin.