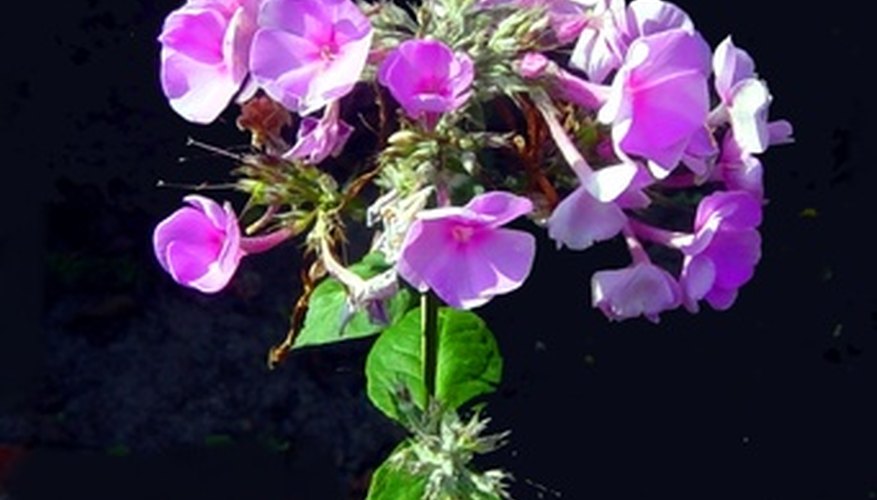 Phlox (Phlox paniculata) is a showy perennial plant that, with proper care, will produce long-lasting blooms for six weeks from mid-summer to autumn. The sweet-smelling flowers--which come in a variety of hues including white, lavender, pink, purple, scarlet, orange and white--will attract butterflies and hummingbirds to the garden. Although phlox isn't difficult to grow, it's important to provide good air circulation to prevent powdery mildew.
Plant phlox in well-drained soil. Choose a location where the plant will be exposed to bright sunlight. Although phlox will grow in partial shade, the quantity and quality of the blooms will be diminished.
Water phlox on a regular basis. The soil should be kept slightly damp, and should never be allowed to dry out. Water at the base of the plant and avoid wetting the foliage. If you irrigate with a sprinkler system, water phlox early in the morning so the foliage has time to dry before evening.
Spread 2 to 3 inches of mulch, such as pine chips or compost, around the plant in mid-summer to keep the roots cool, conserve moisture and deter weeds.
Thin phlox plants when the stems are about 5 to 6 inches tall, in order to produce big, robust blooms and to improve air circulation. Leave five or six stems per plant, and remove the remainder of the stems.
Pinch off, or deadhead, spent blooms. Pinching off wilted blooms will cause the plant to bloom as long as possible, instead of going to seed.
Stake tall varieties of phlox. Drive a wooden or metal stake into the ground a few inches from the plant. Secure the plant to the stake with soft garden ties or strips of fabric.
Propagate phlox by division in spring before the appearance of new growth. Use a spade or a garden fork to divide the clump of phlox, then divide the phlox into sections. Be sure each section has at least three or four healthy roots. Plant the phlox immediately, allowing at least 18 inches between each plant.