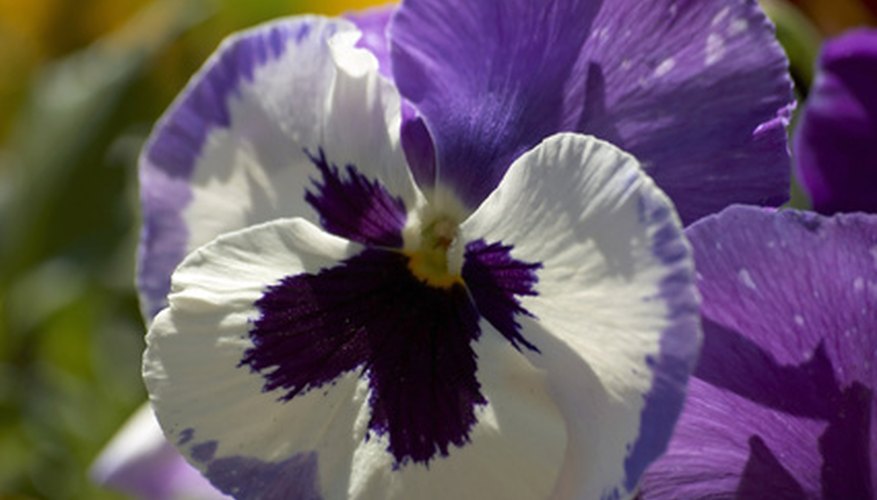 Violas (Viola tricolor), also known as heart's ease or Johnny-jump-ups, are herbaceous annuals valued for their colorful, edible flowers and ease of cultivation. The plants bloom during spring, producing tricolored flowers in shades of purple, yellow and white. Considered small plants, violas typically reach up to 7 inches in height with a 6-inch spread. Native to Europe and Asia, violas thrive as annuals throughout the United States and make ideal additions to spring-flowering gardens.
Select a planting site that receives full sunlight to partial shade and consists of rich, well-drained soil. Sow viola seeds 1 inch deep during late summer or early fall, spacing each seed 4 to 6 inches apart. Water lightly after sowing, and then water once per week until plants emerge two to three weeks later.
Water violas once per week throughout the spring, summer and fall to keep the soil moist, but not soggy or wet. Soak the soil to a depth of at least 2 inches to ensure the roots receive enough moisture. Apply water directly to the soil to reduce vulnerability to disease
Feed violas once every two to three months using a balanced 10-10-10 NPK fertilizer. Read the directions provided by the manufacturer for proper dosage and application. For the best results, water lightly just after fertilizing to release the nutrients into the soil.
Remove dead or faded viola flowers whenever possible to prolong blooming and encourage the formation of additional blossoms. Pinch off the spent flowers at the stems to minimize damage and promote fast re-blooming.
Prune violas whenever the plants begins to grow in an undesired direction to keep them bushy and attractive. Pinch back the growth by no more than 1/3 of its length to avoid causing excessive damage to the plant.