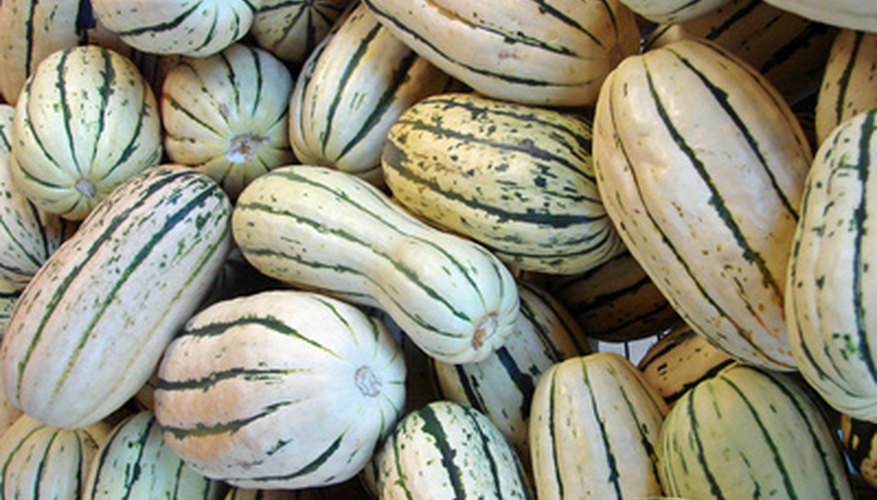 Some gardeners know the tender and tasty delicata squash as Bohemian squash or peanut squash. Whatever you call this intriguing winter squash variety, it roasts beautifully in the oven and has a light, sweet flavor that many people enjoy. As you roast your delicata squash in the oven, toast delicata squash seeds at the same time for a delicious, crunchy snack that not only tastes divine, but is nutritious as well.
Wash the delicata squash in cool water, rubbing the outer rind firmly with your hands to remove any dirt and germs.
Place the squash onto the cutting board, and cut it in half from top to bottom. Set one half aside momentarily.
Pull the delicata seeds from the squash membranes with your hands to separate them. Place the seeds into the colander as you separate them. Continue working on both squash halves until you separate every seed from the membranes.
Rinse the delicata seeds under cool water to remove any remaining squash materials from the seeds.
Spread a triple layer of paper towels out onto the counter. Shake the colander in the sink to remove as much excess moisture as possible from the seeds, and then pour the seeds out onto the paper towels. Spread the seeds out into a single layer on the paper towels, and cover the seeds with another layer or two of paper towels to dry them. Blot at the seeds with the paper towels until they are dry.
Line the baking sheet with parchment paper.
Transfer the seeds from the paper towels to the prepared baking sheet, and spread them into a single layer on the sheet.
Sprinkle 1 to 2 tsp. of cooking oil over the seeds, and sprinkle as much salt as you desire over the seeds.
Roast the delicata squash seeds at 250 degrees for 45 to 60 minutes. Stir the seeds every ten minutes to prevent scorching. Remove the seeds from the oven when they are golden brown and crispy.
Cool the seeds on the baking sheet, and then transfer them to a sealed container. Store the seeds at room temperature for two to three weeks.