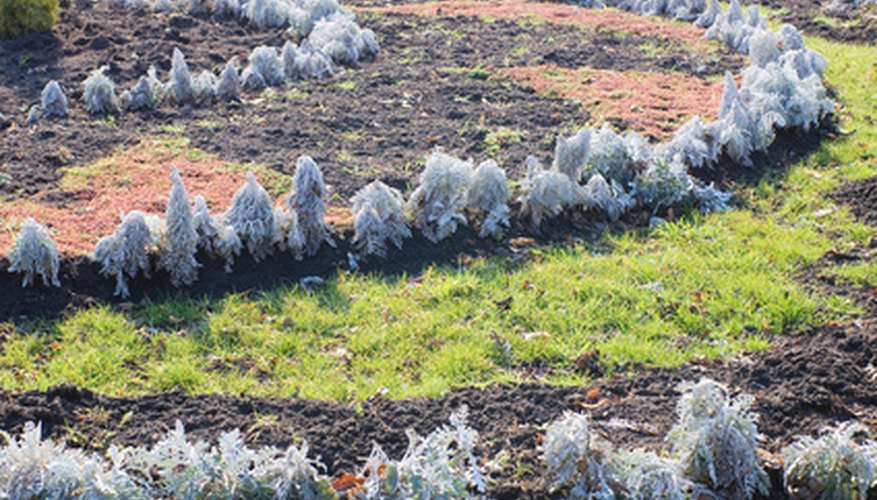 Few flowers maintain their rank in the garden like the highly esteemed rose. These attractive garden flowers add color and beauty to many landscape designs in yards and parks. One colorful variety of tea rose, the Caribia Tea Rose, displays showy blossoms boldly striped in shades of pink and red. Like other types of hybrid tea roses, this rose matures at a small size around 3 feet tall. Brighten up a border or flower bed with a vivid Caribia Tea Rose.
Select a sunny location in your landscape to plant your Caribia Tea Rose. These hybrid roses require areas with full sunlight. Plant them away from large trees that cast shade as they grow and pull valuable nutrients from the soil. Do not plant your hybrid rose in a low area that retains water. Choose an area that provides protection from heavy winds. These tea roses suffer in windy conditions.
Prepare the soil in the spring for your rose. Dig the hole at least twice as wide as the rose's root ball. Set the removed soil in a pile. Add an equal amount of compost to the removed soil to increase the porosity and provide valuable nutrients for your rose. Use a shovel to turn the soil with the compost, combining them into a smooth mix.
Prune your Caribia Tea Rose before planting. Snip off any broken stems or branches. Check the rootball for any binding roots. Trim away exterior roots that form a circle around the outside of the rootball. These roots can hamper the growth of new roots. Cleanly remove them with your pruning shears.
Set the rootball in the hole, keeping the surface level with the surrounding soil. Fill in with your amended soil. Press gently to remove any air pockets near the roots of your tea rose. Slowly soak the soil immediately after planting.
Spread 2 to 3 inches of compost over the surface soil to hold in moisture. Watch for new leaf buds to form on your rose. Apply a slow-release fertilizer once you notice new growth. Select a granular fertilizer specified for use with roses. This will increase the nutrients in the soil and strengthen the roots and foliage on your Caribia Tea Rose.