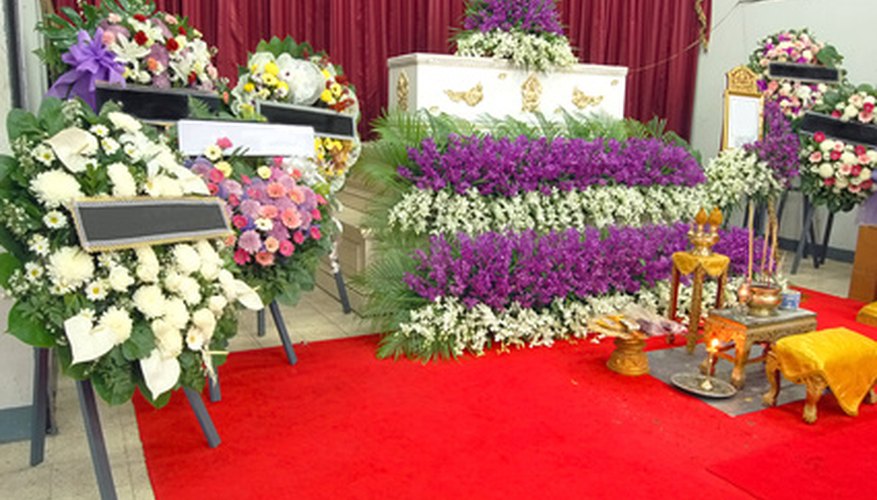 Saying goodbye is always hard, even if the deceased lived a long and full life. Giving flowers is one way to tell the family that you remember and care about them during their bereavement. Almost any flower type and color is appropriate for a funeral arrangement. Special funeral arrangements include sprays, casket blankets and wreaths. The circular shape of the wreath signifies everlasting life. The flowers may have to last a few days through a wake and memorial service. Keep them looking fresh with a few easy steps.
At the Memorial Location
Remove the spray or wreath from the casket or from the wreath stand.
Submerge in a large container of water. If that's not possible because there is no container large enough, take the spray or wreath to the restroom at the memorial location. Dump out the old water. Refill with fresh water.
Mist the arrangement with water.
Remove dead or wilted flowers. In most cases they won't revive with additional water. Replace with fresh flowers. White is a common color used in many funeral arrangements. Have a few white roses, carnations or lilies on hand for substitution.
Shake the arrangement gently to remove excess water. Wipe the bottom of the floral container dry.
Keep arrangements out of the sun and away from heat sources. If possible place away from heating vents or near radiators.
At Home
Fill the bathtub with a few inches of water and add several trays of ice cubes.
Dump out the old water from the arrangement. Soak in the ice water for 10 minutes making sure the water covers the top of the container.
Remove flowers from the vase for those arrangements not in floral foam. Re-cut stems 1/2 inch. Dump out old water and replace with fresh ice water.
Mist arrangements daily.
Things You Will Need
Large watertight container

Spray bottle

Clippers

Replacement flowers

Towel
Tip
If the spray or wreath is not easily removed from the stand, don't force it. It's mostly likely wired on. Just mist with water.
Warning
Be careful when carrying arrangements that you don't spill water. It will leave marks on wood.
Resources