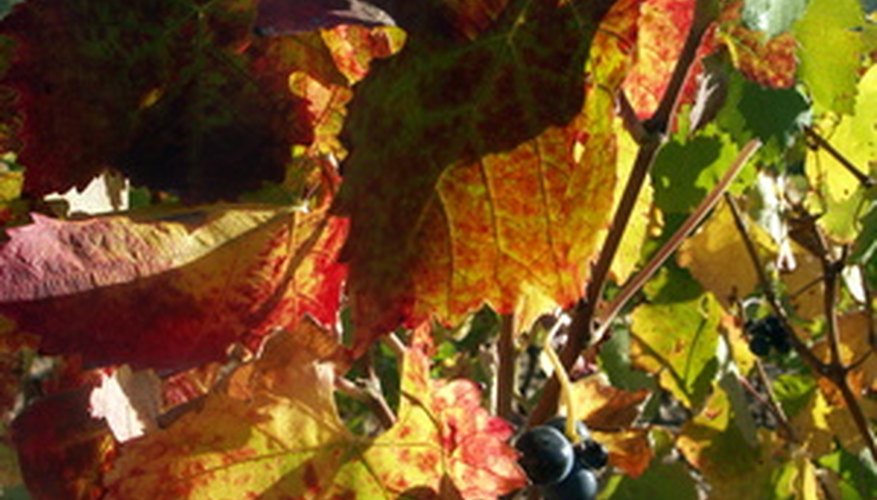 Grapevines are good for areas where you want shade in the summer and sun in the winter, because the vines lose their leaves in autumn. They grow quickly and will soon cover a gazebo. The lush fruit is an added bonus. Even the leaves are edible when picked young. Start with healthy grapevines for your landscaping.
Buying Grapevines in Containers
Select a variety of grapevine that does well in your USDA Hardiness Zone. Most vines will thrive in areas with mild winters. However, there are several that will live through cold-winter zones. Check with your local university's agricultural extension program to find out what varieties are best.
Decide what type of grapes you want. Some, like Thompson seedless, are best for eating fresh or making raisins and aren't appropriate for making wine. Others, like Concord, are intensely flavored but have seeds.
Research the varieties online to get an idea of what you should be paying. Plant nurseries in expensive neighborhoods may price the grapevines higher than those found in big-box or home improvement stores.
Choose a vine that has lots of bright green leaves and new growth. Avoid plants that have yellowing leaves and spindly growth.
Turn over the pot and see if there are any roots coming out of the drainage holes. (Hold your fingers across the top of the pot and around the vine to stop it from falling out while it's upside down.) If you see roots it could mean the vine is pot-bound and will take longer to adjust to its permanent home.
Buying Bare-Root Vines
Buy early in winter, the bare-root season. The selection will be the best and the grapes won't have started to sprout yet.
Choose the largest bare-root stock. Bigger, older grapevines will produce more grapes than young grapevines.
Select vines that are pliable but haven't started to bud yet. The vine should be pliable and not snap off or be brittle. That could mean the vine is dead. Budding uses a lot of energy: the vine should use that energy to develop a new root system after planting, not to support new leaf buds on a weak root system.