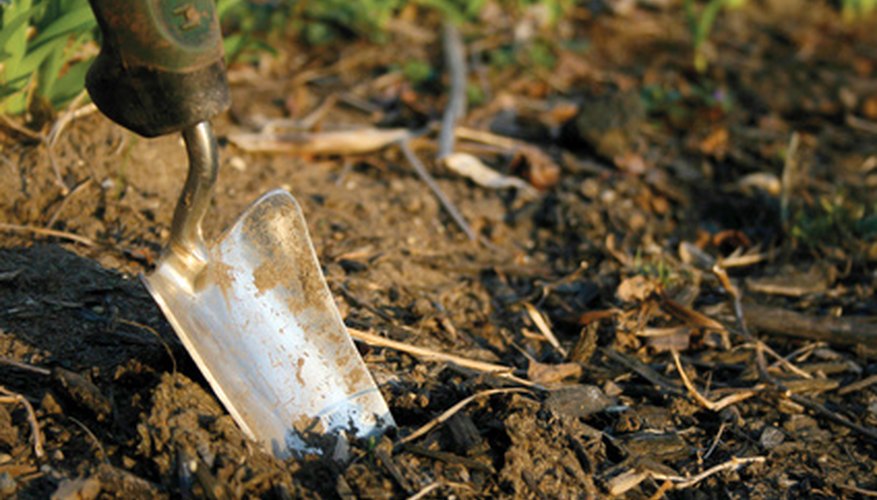 Turning a piece of backyard or corner lot into a vibrant green garden may seem like a process that requires power tools, but you can turn rocky, weedy dirt into rich, dark soil with only a few hand tools. Tillers are heavy, expensive and difficult for many people to operate, but almost anyone can use a shovel and garden fork. Use a process call double digging to create a soft bed that will be a welcome home to any seeds you may want to grow.
Dig out a strip in your garden that is 1 foot deep and 1 foot wide. Remove the dirt from this strip and put it in a wheelbarrow or place it on a tarp.
Loosen up the dirt at the bottom of the strip with a garden fork. Remove any large rocks that you find in the dirt.
Dig up another 1 foot wide strip next to the first one that you dug. Place the dirt from the second strip into the hole created by the first strip. After the second strip is 1 foot deep, use the fork to loosen the dirt at the bottom and remove any rocks that you find.
Dig a third strip next to the second, filling up the second strip's hole with dirt from the third. Use the fork to loosen the soil at the bottom of the third strip.
Continue digging out strips, using the soil to fill the previously-dug strip, and loosening the soil at the bottom of each strip. Fill the last hole with the dirt from the first strip that you saved in the wheelbarrow or on the tarp.