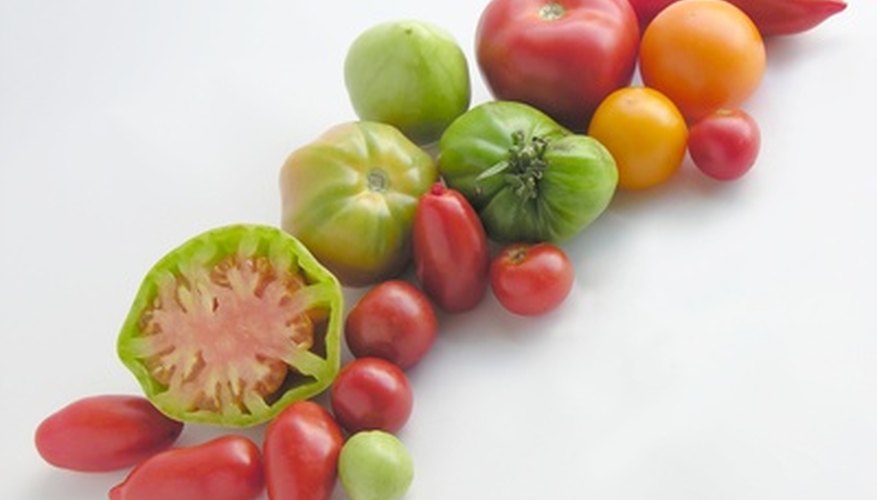 Tomato lovers know the flavor value of a good tomato just picked from the garden and still warm from the sun. Many of them also know that it pays to sell those wares if the right varieties are grown and the proper marketing steps are taken. Tomatoes are the most popular vegetable grown in the home garden. Profiting on their popularity requires simple preparation geared toward meeting the consumers' needs and catering to their preferences.
Decide how to sell the fruit before you make decisions about which types to grow. Consider setting up a booth at a local farmer's market and advertising in print and online publications for at-home sales.
Set prices or have a general idea about how fruit will be sold, be it individually or by the pound. Make sales pitches to restaurant chefs and owners the previous winter if large quantity sales will be grown. When entering contracts, keep in mind the possibility that bad weather could destroy the crop.
Grow tomato varieties that are frequently eaten in your region. Diversify your sales with popular red hybrid varieties that are disease-resistant and some heirlooms that aren't often sold there. Grow tomatoes that ripen at different times to extend the harvest and sales season.
Keep in mind that some varieties can produce as much as 10 pounds of fruit per plant. Consider that not every tomato for sale will be bought.
Research care specifics for each variety, particularly with heirlooms. Buy seedlings for each variety or, if some aren't available, purchase seeds and start growing those earlier indoors.
Know which USDA growing zone you reside in to see when the last spring frost date is predicted, and keep an eye on weather forecasts. Gradually expose indoor seedlings to the outdoors as the weather warms to harden them off.
Plant indoor and store-bought seedlings outdoors after the danger of frost has passed. Sink plants into the ground about 2 feet apart, add a starter fertilizer solution and cover the stalk so that the soil is just below the first set of leaves. Place stakes nearby, or place cages over plants right after planting.
Make sure plants get soaked with water 6 to 7 inches deep once per week. Fertilize plants with a complete fertilizer when they start to set fruit.
Harvest and sell ripening and ripe tomatoes. Do not sell scarred, bruised or otherwise flawed tomatoes. Place greener fruit near the bottom of flats, boxes, baskets or other transporting and display vessels. Keep varieties separated to avoid customer confusion. Sell on the day of picking or as close to that day as possible.
Create a logo, signage, business cards and other printed materials to market your goods and advertise your business. Offer printed recipe cards that highlight dishes containing tomatoes.
Be prepared to answer product-related questions regarding variety history, growth, harvesting, transporting and pricing.
Things You Will Need
Tomato seeds and seedlings

Starter and complete fertilizer

Stakes

Boxes, crates or other transportation vessels

Recipes

Printed business materials