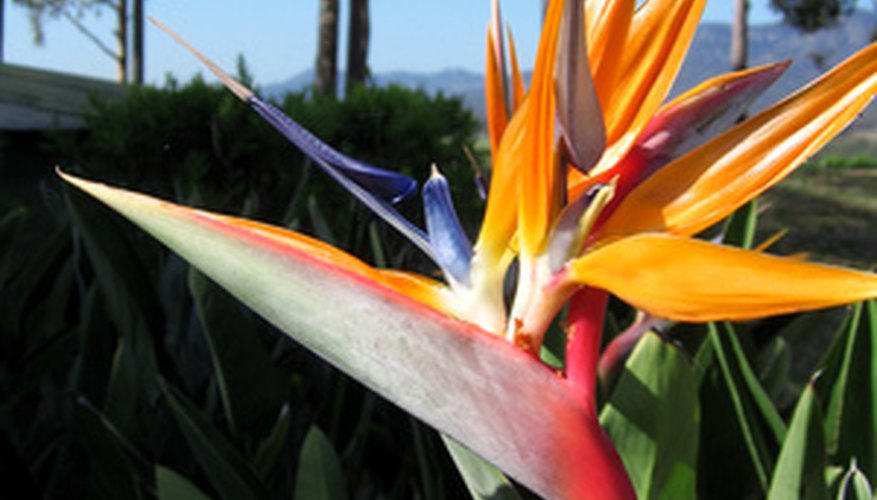 Flowers that bloom in early spring are often the first indicators of the changing season, welcoming in longer and sunnier days with their much-sought blooms. While many flower species do their most vigorous blooming in the summer months, many other flowers produce spectacular showings of blooms in March and April.
Bird of Paradise
Originally native to South Africa, bird of paradise (Strelitzia reginae) is a tropical plant that boasts beautiful flowers as well as lovely foliage. The clumping plant has oblong, dark waxy green leaves accented by large showy orange, red and blue pointed flowers that bloom in March, April and on into May at the Florida Botanical Gardens. Bird of paradise prefers full sunlight with soils that are rich with nutrients. Plant the Bird of paradise in moist, highly acidic soils for best results.
Desert Lily
Native to the Sonoran and Chihuahuan desert, as well as Northwestern Mexico, desert lily (Hesperocallis undulata) is a flowering desert plant that has distinct, wavy edged leaves. The plant produces delicate waxy white flowers that bloom in March and April continuing on to May.
The fragrant desert lily can often be seen blooming along roadsides, as well as in desert washes and on slopes. The edible bulbs of the plant were traditionally used as a food source by Native Americans.
Desert Marigold
Desert Marigold (Baileya multiradiata) is a woody, shrub like plant that produces fluffy yellow flowers. Native to the American Southwest, as well as Mexico, Desert Marigold can be found in sandy soils in sunny locations, often along roadsides or sandy mesas. The plant flowers in March, continuing off and on well into autumn. The plant is useful to attract birds like the black-throated sparrow, which eats the seeds in autumn. Desert marigold is extremely drought tolerant, making it popular for gardeners in water scarce regions.