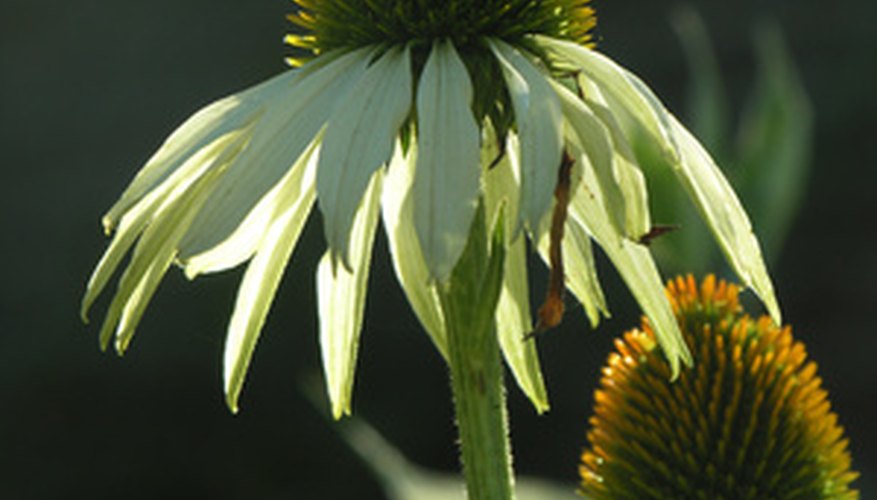 Flowers are lovely enough on their own growing freely in the wild or in a garden, but flowers that can be harvested for use in bouquets in the home provide extra value to the hardworking gardener. Types of flowers that will survive for a few days in water, in addition to having strong stems, make ideal cut flowers.
Coneflower
Coneflower (Echinacea) is a perennial plant that is native to North America. Some species of Echinacea are commercially sold as herbal supplements. The plant produces attractive daisy like flowers in a range of shades from white to pale purple and pink. The long sturdy stems of the coneflower, which generally reach between 2 to 4 feet, make the plant ideal for cut flowers, providing a colorful centerpiece for a wildflower bouquet. Coneflowers thrive in full sun to partial shade in well drained, even dry, soils. The flowers often attract butterflies, while the seeds of the plant will attract birds.
Strawflower
Boasting long lived blooms, strawflower (Bracteantha bracteata), also known as golden everlasting, is native to Eastern Australia. Strawflower produces golden yellow, pink or purple daisy like flowers from spring until fall, and make great cut flowers for a cheerful bouquet.
Strawflowers' sturdy stems reach an average length of between 4 and 5 feet, leaving ample room to cut the flower. Strawflowers thrive in full sunlight, with moist, well drained soils.
Pot Marigold
Pot Marigold (Calendula officinalis) is a fast growing annual that showcases brilliant orange flowers atop rich green foliage. The strong stems and hardiness of the plant make pot marigolds a good cut flower for a spring or summer bouquet. Its stem length is generally about 2 feet. Pot marigolds have edible flowers, the petals of which can used in salads or as a festive garnish. The plant prefers full sunlight in light or rich soil.