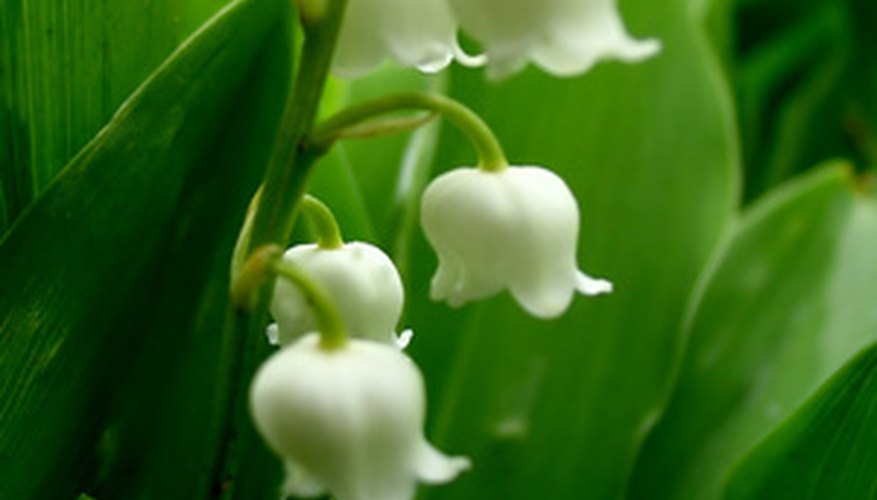 The Lily of the valley is a low-growing plant that produces short stems with bell-like flowers. The fact that it is low makes it a popular choice as a ground cover, along with the fact that it will spread further every year. Lily of the valley does not actually have a bulb for planting, but rather a set of roots that are topped off by a small, carrot tip shaped rhizome called a pip. If you purchased some Lily of the valley plants to grow yourself and expected to see round bulbs, don't worry. Planting the pips is a very straight forward process.
Select a site for your lily of the valley that is in part to full shade and has moist, but well-drained, soil. While the plants like moisture, the roots and pip can rot in areas where the soil does not drain, and they sit in water.
Soak the pips and roots in a bowl of lukewarm water for two hours before planting them.
Cut the bottom inch off the roots before planting, as this will help facilitate faster root growth once planted.
Take the trowel and dig a hole for your rhizome that is approximately 3 inches deep. Put the roots down into the hole with the pip pointing up.
Fill the hole back in so that the top of the pip is about 1 inch below the soil surface. Tap the dirt down well over the rhizome and water well, making sure the soil is moist, but not soggy. If planting more than one plant, space them between 2 and 3 inches apart.