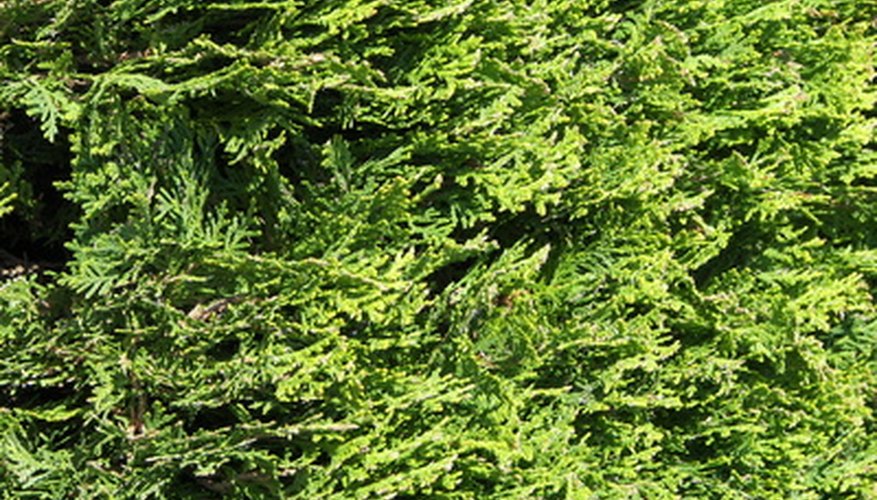 The temperate climates in Georgia make it an excellent place for evergreen plants. Evergreens are warm, temperate climate plants. They provide a year-round backdrop to your yard or garden and are a contrast to deciduous plants that completely lose their leaves in the fall. These plants are excellent to use for privacy and as a natural buffer.
Fetterbush
The fetterbush is an evergreen shrub that grows up to 15 feet tall and 8 feet wide. The bush has bright green leaves and tiny cream-colored flowers that bloom in late spring. Fetterbush can be left to grow to a natural shape resembling a tree or trimmed as a hedge, and the green leaves work well as a natural screen for decks and patios. The plant thrives in moist, well-drained soil with at least two hours of morning sun every day.
Groundsel Bush
The groundsel is a flowering shrub that blooms in late summer. The seeds of the groundsel look like tiny white paintbrushes. The plant works as an excellent border shrub and can survive in many different kinds of conditions. Groundsel can even survive the harsh salt climates in southeast Georgia. When left untrimmed, it can grow up to 12 feet tall and 10 feet wide. The seeds spread quickly, which can make this shrub invasive.
Buckwheat Tree
The buckwheat tree is a multi-stemmed flowering shrub that grows up to 20 feet tall and 12 feet wide. The leaves of the plant are glossy and leathery green in the spring and summer and turn red to crimson in the fall and winter. The buckwheat blooms in early spring and has pink to white flowers. The plant prefers moist soils and full sun.
Red Basil
The red basil shrub is a small shrub that grows approximately 2 feet tall and 2 feet wide. It produces fragrant, deep red, tubular flowers from late fall to early summer. The plant prefers the dryer climates of the coastal plains and thrives in sandy soils.
Gallberry
The gallberry is also known inkberry. It can grow up to 8 feet tall and 6 feet wide. This shrub produces small, white flowers and berries in the late fall. Gallberry is an excellent food source for wildlife. It will not tolerate drought conditions and will thrive best in moist soils of bogs and pine flatwoods.