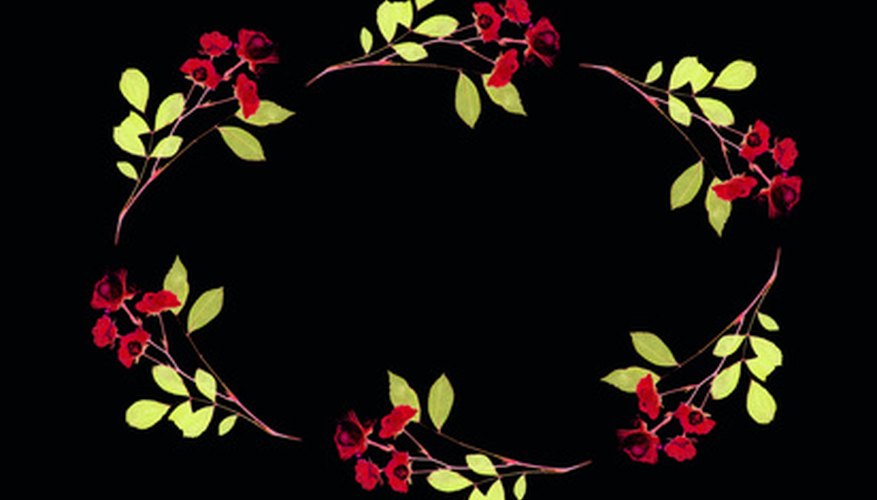 abstract oval of roses image by marilyn barbone from Fotolia.com
After pressing flowers from a summer garden, put them to a variety of uses in crafting and decorating projects. Because pressed flowers are flat with no dimension, they are especially suitable for using to cover assorted decoupage projects. Decoupage involves sealing decorative papers or flowers over a surface with decoupage medium. After the medium dries, the surface has a beautiful and unusual appearance. Decoupage dried flowers to add summer beauty to many different surfaces.
Wipe down the surface of the item with the damp cloth, and ensure it is impeccably clean.
Arrange the dried flowers over the item you will be decoupaging until you find an arrangement you like.
Dip the paintbrush into the decoupage medium and brush the back of a dried flower lightly with the medium.
Place the flower onto the surface of the item and press it on with your fingers to adhere it to the item.
Dip the paintbrush into the decoupage medium again and apply the medium over the top of the flower to coat it thoroughly.
Add additional pressed flowers using the same method until you have added every flower to the surface of the item.
Dip the paintbrush into the decoupage medium again and brush it evenly over the entire surface.
Allow the decoupage medium to dry completely--this may take up to 24 hours.
Apply another coat of decoupage medium to the entire surface of the item. The additional coats of decoupage medium will create a glossy shine. Apply as many coats as necessary to create a shine you desire (as many as three to four coats may be necessary).
Things You Will Need
Damp cloth

Dried flowers

Item for decoupaging

Foam paintbrush

Decoupage medium
Tip
Some surfaces may require paint before decoupaging on them. If you will be painting the surface first, paint it and allow it to dry before proceeding with decoupage.
References