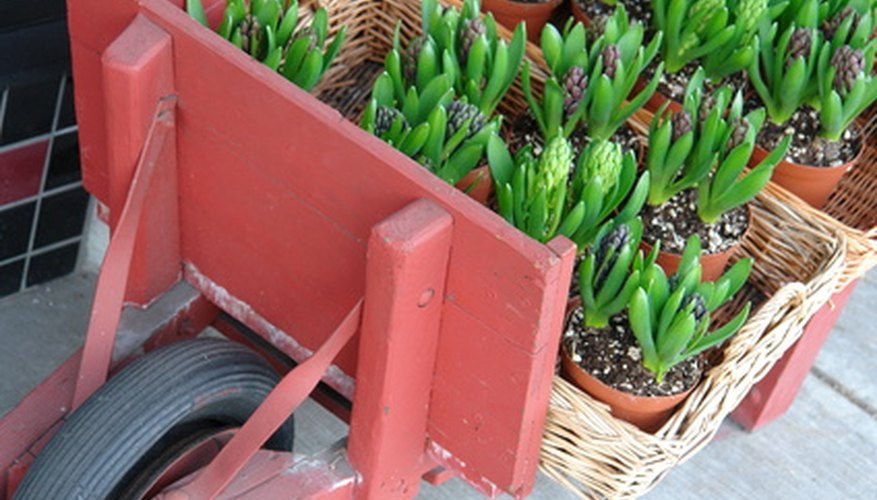 Thoughts of gardening often center on time spent tilling the earth, planting, weeding and watering. Spending time before your shovel ever touches dirt allows you to create a garden that is perfect for you and provides as much enjoyment as work. Plants thrive when planted in the area that provides the right combination of sunlight, moisture and soil type. Choosing plants suited for your location lessens the amount of work required to keep your garden flourishing.
Determine what zone you live in. The United States Department of Agriculture divides the U.S. into hardiness zones. Choose plants that are hardy in the zone where you live to give the plants the best opportunity to survive. Late frosts can kill plants that thrive in warmer areas, while lack of cold weather can prevent some cool season plants from entering the dormant period required for blooms later in the season.
Find a spot that receives at least six hours of sunlight each day. It is possible to plant a garden in an area that receives less than six hours of sunlight each day. Some flowers and shrubs do well in the shade, but a vegetable garden requires full sun. In addition, many of the more popular choices in flower gardening, such as zinnias and cosmos, require full sun.
Use gardening catalogs or visit a garden center to find plants that you would like to grow. In addition to choosing plants that grow in your zone and in the amount of sun in the area dedicated to your garden, make your choices based on personal preference and soil type. Plants that require well-drained soil do well in sandy and loamy soil. Plants that tolerate wetter conditions are a good choice for a garden with a large amount of clay in the soil. Your local cooperative extension service can answer questions about the type of soil found in your area.
Apply organic matter. Organic matter such as compost or aged manure improves drainage, increases the nutrient level of the soil and, over the years, improves the composition of garden soil. Add organic matter to the top of the soil and use a tiller or a hoe to work the addition into the top 3 to 4 inches of soil.
Plant your choices according to label directions. Place your plants in the soil at the same depth as they were in their containers. Seeds should be covered with enough soil so they are not visible–the larger the seed, the deeper it is planted.