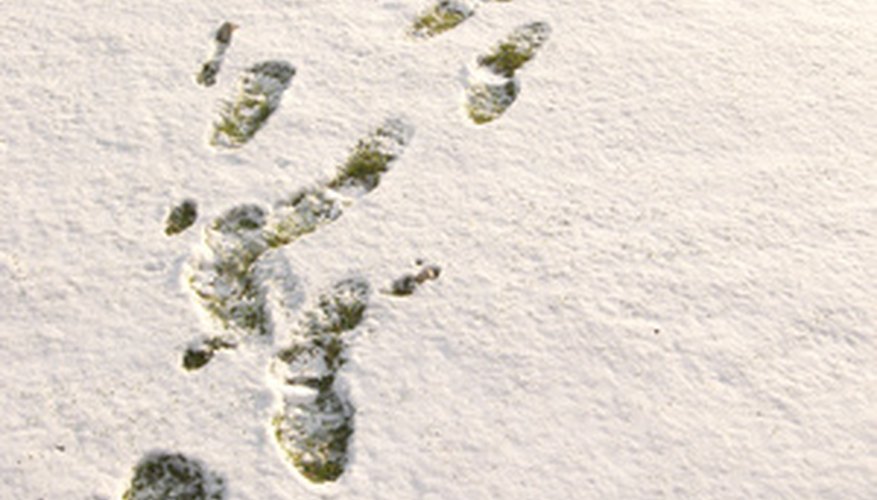 Caring for your lawn is a year-round chore, even if you have a type of turf grass that goes dormant (brown) in the winter. The specifics of the care will depend on where exactly you live. If you live in the far south, for example, you will not need to worry about snow on your grass during the winter months. Still, there are some general care tips that work well for lawns in every climate. February is an important month for proper lawn care because that is when you need to get the grass ready for spring growth.
February Care in Freezing Regions
Remove large debris, such as broken tree branches, from the lawn after winter storms, especially if snow is expected. The weight of such items under snow can damage the grass.
Prevent snow mold from developing on turf grass by raking up spots where snow has left a wet spot once the weather has warmed up. According to Colorado State University, snow mold occurs when a thick layer of snow covers lawns that are no longer frozen.
Stay off frozen grass as much as possible, even to the point of avoiding walking on the lawn. Do not apply fertilizer or thatch the lawn until the ground has thawed and there is no danger of another frost.
February Care in Warmer Regions
Rake up winter debris such as leaves or broken twigs and branches. Remove worm casts (structures created by worm activity) by lightly sweeping them off of the grass.
Apply a general-purpose fertilizer if you have a winter-rye grass mixture, which will encourage early spring growth, according to the Bradford County Exchange Office. Use a broadcast spreader for even application. Water the lawn before and after you fertilize.
Test the soil to determine if any amendments are needed for spring growth. You can get a soil testing kit from any local home and garden center. Follow the instructions on the kit for removing a soil sample from your lawn.
Spray the lawn with an herbicide if weeds are starting to grow, but take care not to get the herbicide on any nearby desirable perennials.
Continue to mow the lawn as needed.
Things You Will Need
Plastic garden rake

Broom

General purpose grass fertilizer (optional)

Broadcast spreader

Lawn mower

Watering tool

Soil testing kit

Herbicide
Warning
If the ground is frozen or covered with snow, keep off the lawn and wait until a warmer time of the month to take care of the lawn.