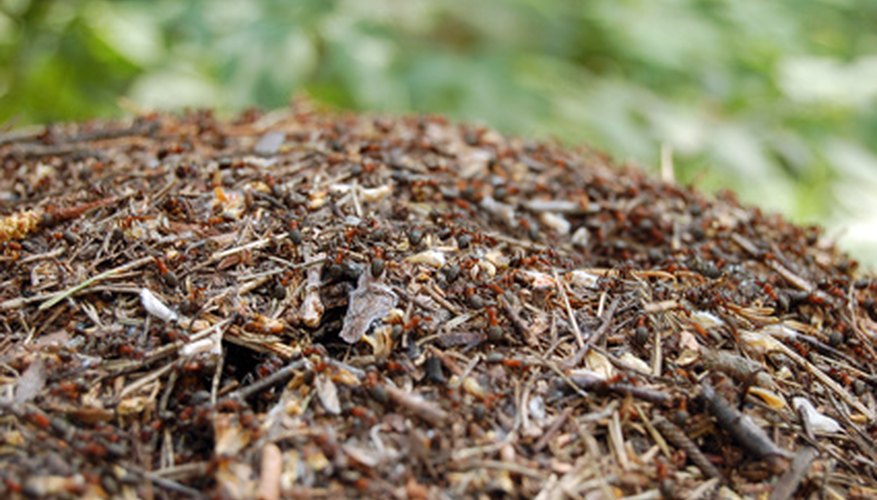 Ants are a part of the warm weather season. These invasive pests can establish huge colonies below the grass and lawn surface. In some parts of the country, red fire ants are more than just pests; the sting from a fire ant can prove most uncomfortable and in some cases even fatal to small animals. All ants, especially fire ants, are extremely territorial and the small creatures will fight to defend their area.
Begin treating the ants in the most organic method as possible. It may be best to work your way into using a harsh chemical as the last approach. Identify the mound of the ants. The mound will be a circular hill of sand and soil. Many ants will be coming back and forth from a singular hole in the center of the mound.
Pour a gallon of hot water down the center hole of the mound. In a shallow nest, this will kill off the ants in the colony.
Create a mixture of 1 cup water, ½ cup sugar and 1 ½ teaspoons of Boric acid. Stir the mixture until all solids are dissolved. Place the cotton balls into the small bottles. Pour the solution into the bottle. Allow the solution to soak up into the cotton ball. Poke large holes in the metal lids of the small bottles, big enough for the ants to enter. Lay the bottles on its side near the entrance of the mound. The ants will carry the poison back to the colony. Since the bait solution is in a sealed container, small animals cannot get into the bait.
Sprinkle 1/2 cup of grits around the mound of the ants. The ants will take the grits back to the nest. Once a grit is eaten by an ant, it will quickly expand inside the body and kill the insect. It is not a quick remedy, but one to try if you have small pets in the yard.
Apply an insecticide as a last resort to the ant problem. You can use either Diazinon or Sevin. These two insecticides will not only kill ants, but many other insects as well, such as ticks, grubs and spiders. Distribute the chemical to the area as per the manufacturer's instructions. Use extreme caution as the chemical can be harmful to fish and other aquatic creatures.