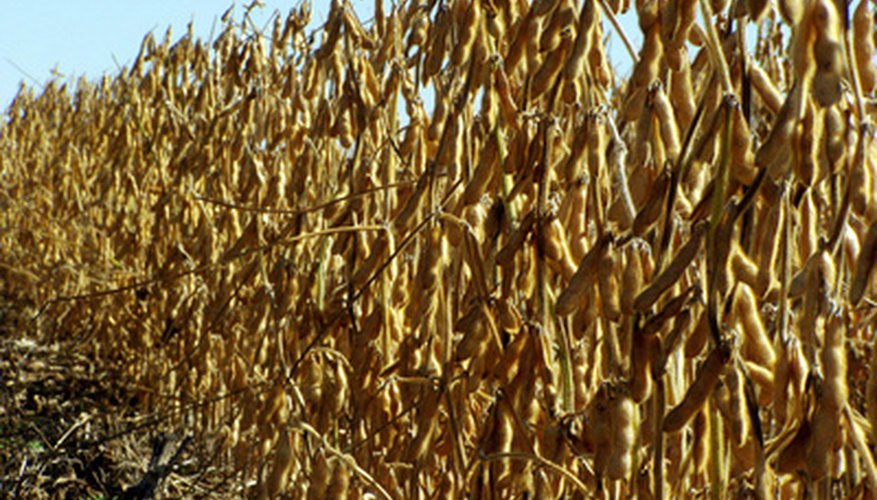 In the United States. soybeans may be best known as "edamame," the small, green pea-like beans that come in pod at Japanese restaurants. But these protein-rich beans, which are used to make soy milk and tofu, are available in many varieties and colors. Soybeans should be planted in warm climates or started in a greenhouse, as they require soil temperatures ranging from 55 to 60 degrees F to germinate. Soybean plants should be grown in climates with warm days and cool nights. These beans are hardy and can adapt to different soil types, but will thrive in loamy, well-drained soil with lots of organic matter.
Lucky Lion
The "Lucky Lion" cultivar is a high-yielding plant that produces a bean with a nutty flavor. The seeds should be planted in late spring to early summer and take about 75 to 80 days to maturity. This variety grows to 2 feet, matures early and the bean and pod are green.
Tamba Kuro Otobubu
The "Tamba Kuro Otbubu" cultivar produces a black bean in a green pod and is popular in Japan. The bean has a rich flavor and is more pungent than the more familiar green "edamame" beans found in Japanese restaurants or grocery stores. The Tamba Kuro Otobubu soybean plant should be planted in summer and matures late, about 150 days after sowing.
White Lion
The "White Lion" cultivar resembles its Lucky Lion cousin, but pods may be slightly larger. Beans are green in a green pod. This cultivar is an early producer and matures about 75 days after sowing and should be planted in late spring to summer. A fast-growing plant, the White Lion soybean has a mild, nutty flavor.