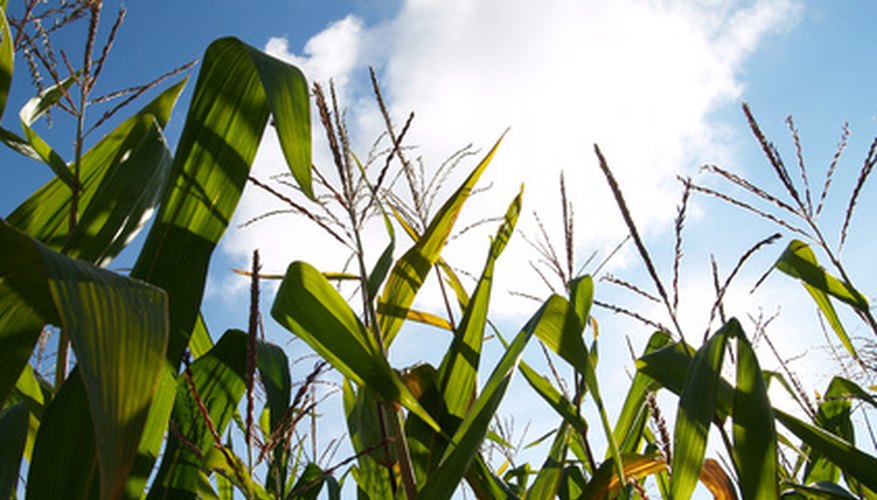 One of the interesting characteristics of corn and the way it grows is its method of pollination. When the plant is mature, it sends out tassels and silk, the male and female parts on the same plant. The tassels bear the pollen and the silk catches it, but only as the wind blows it. This means that corn planted in a circle or spiral has more of a chance to catch pollen from any direction, depending on how the wind blows during that morning. Planting in a spiral is a practical and old way of planting corn.
Clear the planting area of large rocks or sticks.
Turn over the soil with a garden spade or fork so that the top 6 inches of soil are loosened and free from clumps.
Measure out a circle that is about 3 feet wide around the perimeter. Locate the center and scratch a spiral out so that it stays 6 inches out from the previous line, producing a circle with three spirals in it.
Poke a corn seed into the center and then every 6 inches along the spiral. The seeds should be buried 2 to 3 inches deep. Push the soil back over them, tamping it down slightly. Space each corn spiral about 5 feet apart.
Pile the soil up into a ring around the outside edge of the circle so that it is about 3 inches high. Firm it up by pressing down with your hands as you work your way around the perimeter. This will collect any rainwater and direct it toward the roots of the corn.
Keep the soil watered until green shoots emerge. Water enough that the top 3 inches of soil are damp.
Things You Will Need
Corn seed

Hoe

Garden hose
Tips
Do not till the soil if it is too damp or you could end up with large clumps of soil that harden in the sun. Squeeze a handful of the soil together. If it clumps, wait a day or two until it falls apart in your hand.

When the spiral is finished, you should have planted about 12 to 15 corn seeds.