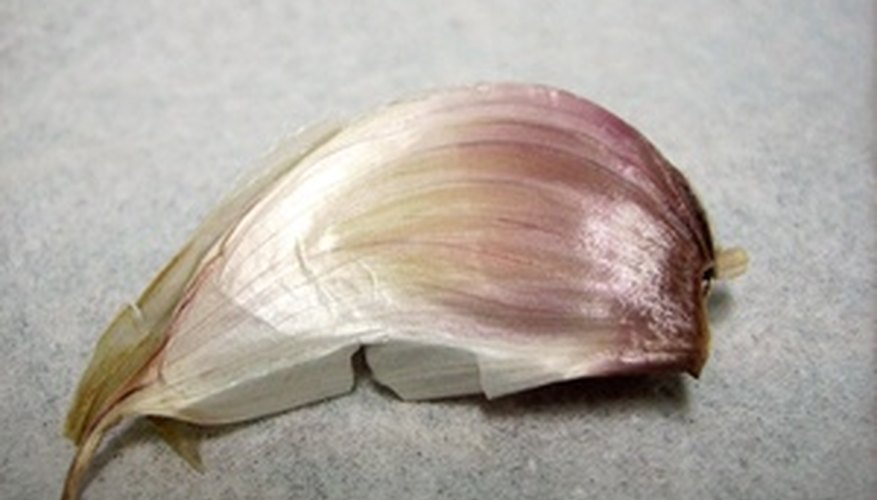 Garlic is grown from the individual cloves that are commonly used for savory flavorings. Each clove is actually a seed that will grow into a single garlic plant. A single bulb will be produced upon the plant's maturity. While that may not sound like much, each bulb may be comprised of up to 20 cloves. After garlic has been properly harvested, cured and stored, it's a simple matter of breaking it apart to plant the individual seed cloves when the time is right for your area.
Pick a dry day to harvest garlic. Dig up a test plant using a flat, narrow-bladed shovel. The bulb should be well-formed, firm and fully developed. Some of the outer wrappers may be partially decomposing, which is fine.
Cut the test bulb in half horizontally to get a good look at the wrapper leaves or outer covering. Dig up the rest of the garlic bulbs if the wrapper leaves or outer skins number from three to five. Handle them carefully, as they bruise easily.
Cut the roots back to about ¼ inch long with a clean, sharp knife. Don't cut off any of the foliage. Brush clinging dirt carefully from the bulbs.
Hang bunches of garlic by the foliage in a dry, well-ventilated area out of direct sunlight for two weeks to cure.
Cut the foliage from the garlic bulbs and put them in clean, mesh onion bags. Store them whole in a dark, dry, cool location for six to 12 months.